"

white dresses anonymous

"
04/22/2011
11:20 am
22/04/2011,
ankle boots, california love, coachella, isabel marant, lover the label, palm springs, photo diary, topshop, vintage, white dresses anonymous
04/15/2011
7:30 am
(Acne Dolphin dress, Jeffrey Campbell boots, Arc necklace)
Not only the draped fit of a monk's robe but even the cord belt. Weird but it works. Acne was so good this season with the monochromatic layering and leather hats, but the silk dresses and low boots stood out to me the most. I love pieces like this that don't require much of anything to look right, simple brainless dressing. I might try wearing it unbelted next for an even more smock-y look.
I'm here in Palm Desert trying to organize my stuff in the hotel and get ready for the first day of Coachella tomorrow. 93 degrees tomorrow apparently, I actually thought it was going to be so much worse..yay!
04/05/2011
10:25 am
Today: one of my favorite vintage dresses + silver nails. I'm one self-wielded snip away from committing to full bangs…I hated them at first but now am coming around to thinking they're worth the weird ways they make you work for them.
11/23/2010
7:52 pm
(vintage coat and fur collar, Society for Rational dress silk dress, Jeffrey Campbell Lita shoes, leopard print Mulberry Alexa bag)
Exploring perfect patches of clovers and low hanging branches with Colin…I found the jacket and collar at the same time at a thrift store a couple weeks ago. I'm pretty lazy and most everything I wear is based on things being present at the same time. So I wore them together in a bastardized ode to Vanessa Bruno. With my shiny new bag..I'm so happy with it, it's sort of busy and simple and satchel-y and being both black and brown seems to go with everything even if it doesn't.
09/12/2010
8:00 am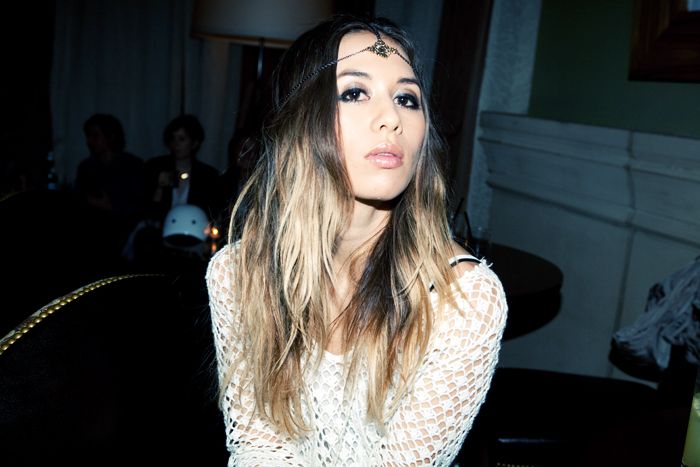 Wearing a headpiece that Mr. Kate sent me last week and having some fun at the Soho Grand. Fashion week has been crazy so far..right now waiting for the Derek Lam show to start at Lincoln Center and trying to figure out what Leighton Meester is wearing. And since I suck at staying on top of posting when I'm traveling, see what I'm doing sooner on Twitter here.