07/24/2009
9:15 am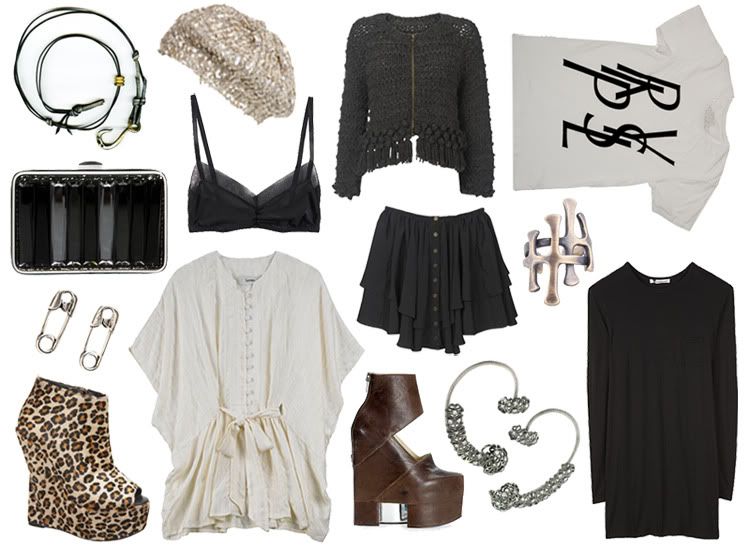 (Giles and Brother hook bracelet and safety pin earrings, Topshop beret, cardigan, leopard print wedges, and skirt, Brian Lichtenberg tshirt, Alexander Wang dress, Elizabeth and James ring, Repossi ear cuffs, Acne wedges, Lover tunic, Araks bralette, All Saints clutch)
Insomnia.
07/22/2009
2:22 am
(Ray-ban aviators, vintage metal/mesh dress over vintage slipdress, Balenciaga platform sandals)
Through sheer luck I stumbled across these legendary SS07 Balenciagas on eBay last week. I don't know if it's just me but shoes are just looking more and more the same thing with a couple extra straps allocated here or there, but even a couple years after their release these still have that extra something special to me. The Birkenstock-style sole and massive platform just kill me. After a 15 minute battle with the buckle (really um unique and secure design job there) and an hour or so of baby deer-like steps they've proven really walkable.
Aside from that, it's a million degrees and I need to go find a pool or slither down to the beach now.
07/19/2009
10:00 am
07/17/2009
9:41 am
(vintage button down tunic, slipdress, and studded fringe scarf, Freedom for Topshop necklace, Aldo boots, Givenchy bag)
Somehow the fact that this tunic/shirt/whatever has deep slits at both the sides and back makes it that much better of a layering piece. I've been buying button down shirts and black denim shorts like crazy lately. It was a beautiful day in Little Italy, though the multitude of dog walkers made me feel deficient of a canine either extremely large and furry or ridiculously small and hairless to parade about. In a Kumo-less situation I'd probably go the German Shepherd route and name him something really good like "Charles" or "Dagger". Just to clear that up.
Tonight it was yoga class, cleaning the living room, and half-watching Jerry Maguire while catching up on my magazine subscriptions. Being boring is amazing.