05/31/2011
6:45 am
I will never part with this shirt..details tomorrow.
05/13/2011
10:40 pm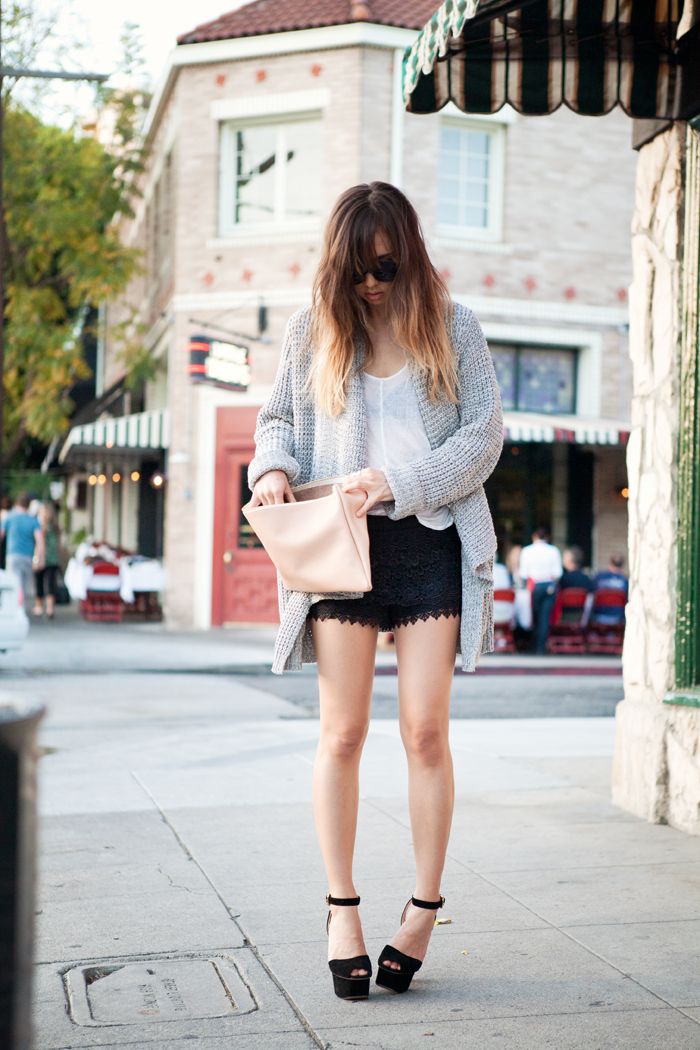 (Line cardigan, twentysevennames tshirt, random shorts from Melrose, American Apparel clutch, Forever 21 sunglasses, Prada platforms)
I've had this cardigan for over a year now and never posted it – totally not representative of our relationship. It's excellent for tossing on over virtually anything. And I just really like waffle woven things. The shorts I bought a few weeks ago when Bryan was visiting, we went shopping along Melrose and I picked up these shorts at one of those generic stores that sells a mix of glitter-flecked slutty things and marabou trim pens. Perhaps predicting that I would forget what the store was called (if I even checked?), I stocked up and also got them in white and brown. Although Bryan jumping up and down and declaring them "so this season Dolce & Gabbana" may have had something to do with that too.
05/02/2011
10:25 am
(Stylestalker knit, Free People shorts, Alexander Wang clutch, Prada platforms)
So late! Here's the rest of the outfit I posted here.
03/31/2011
10:05 am
(vintage faux fur coat and tshirt, BCBGeneration wide legged trousers, Prada heels)
I got to meet up with the beautiful Joyce Azria, otherwise known as the creative director of BCBGeneration, last week. How much I love all of Max Azria's brands translated into almost dying of nervousness on the way to the BCBG headquarters (when I wasn't distracted by getting lost and ending up at a "cutting and fusing facility" oops) but that melted away when Joyce turned out to be the most likeable person, ever. We talked sheer things, marching band hats, and egg-shaped thrones, I got a tour of a good part of the massive building, we spied on Lubov in a meeting, and she sent me off with some fun pieces to play with. These beautiful trousers included. I'm obsessed with this exaggerated wide leg right now and the slits on the legs are the perfect extra detail to make them special. Ended up with sort of an updated '60s groupie look here, shot at the daisy-covered but freezing Lafayette Park in San Francisco.