04/13/2011
8:35 am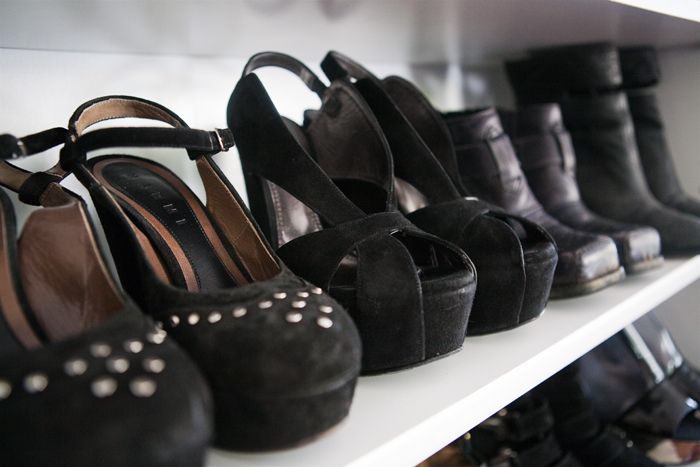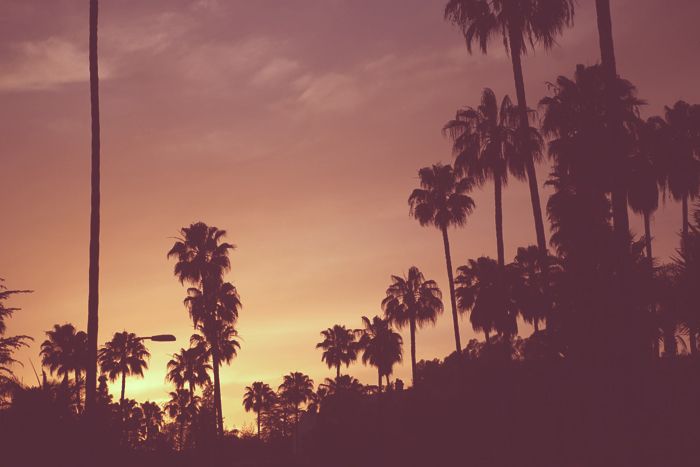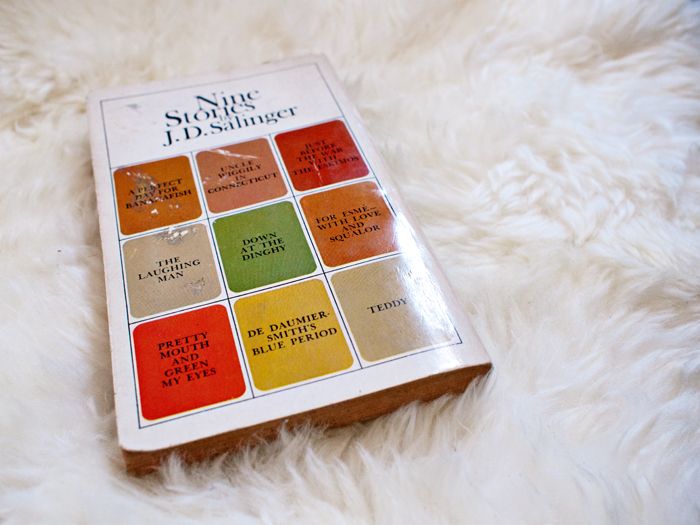 Stone Cold Fox Dermis Dress, one of seven shoe shelves, another palm tree shot, and my parents' copy of Nine Stories
04/10/2011
7:40 pm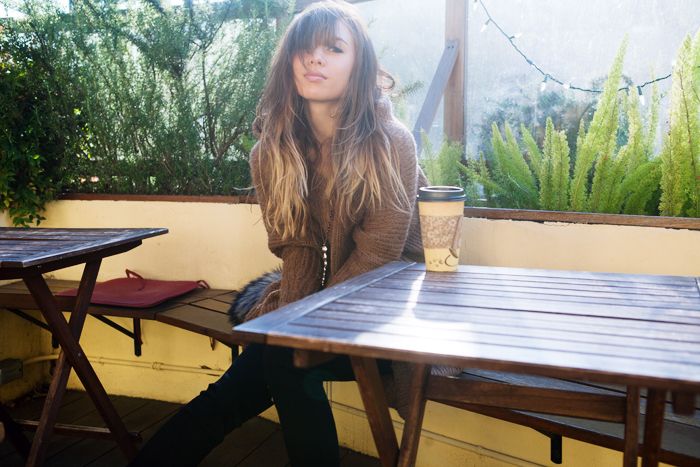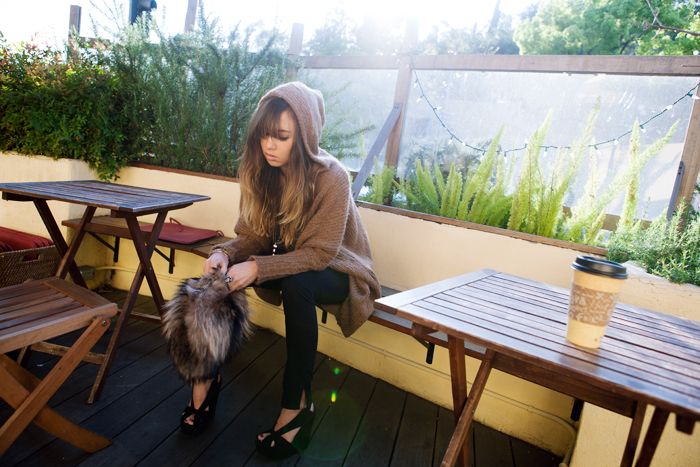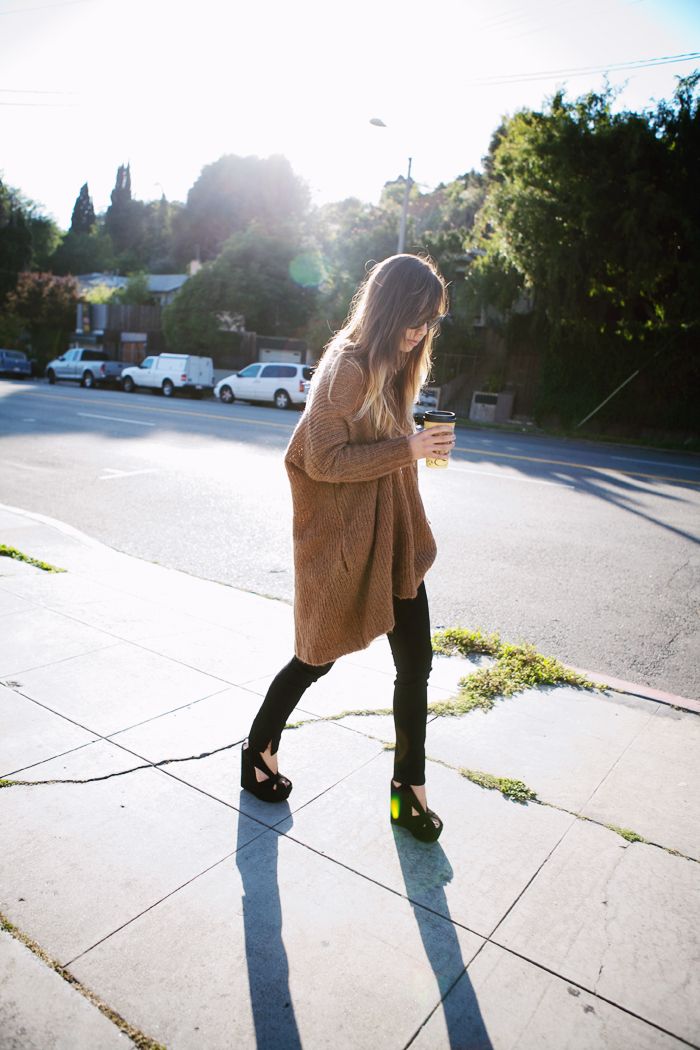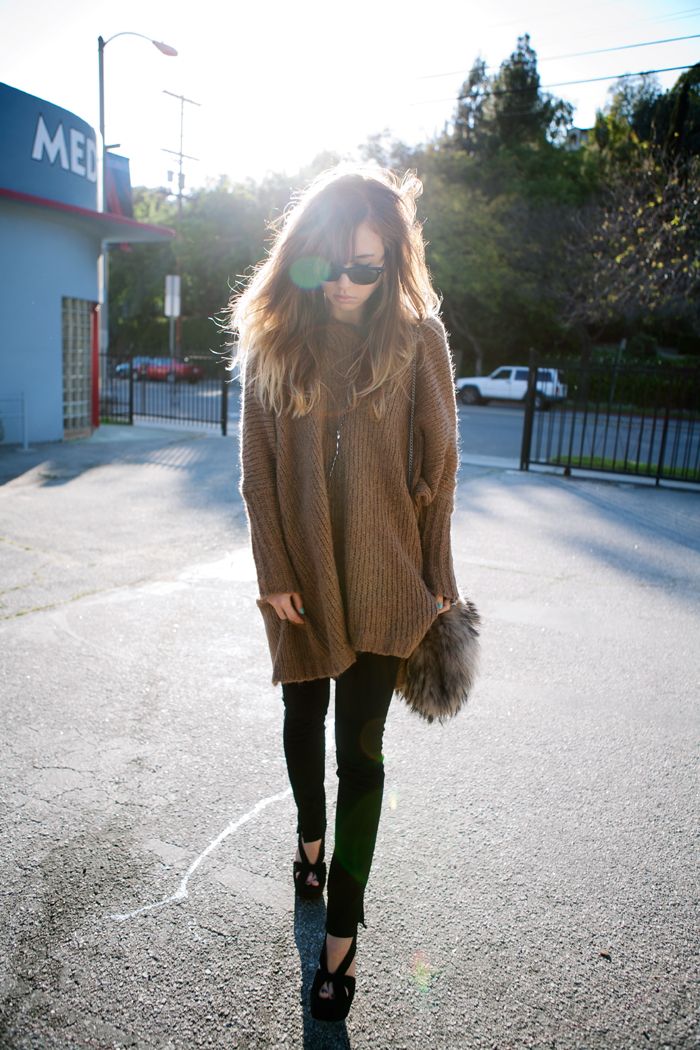 (Zara knit, J Brand 10″ jeans, Theory bag, Dolce and Gabbana wedges)
It suddenly got so "cold" the past few days here in LA…I subsequently switched to giant sweater and jeans and literal effortless makeup mode. Obviously I'm not kidding around with the giantness, it is most unflatteringly tent-like. I got this thing last fall before NY fashion week and ended up leaving it on one of my highest shelves for um months shortly thereafter. Two huge faded patches to prove it. I only realized the hobbit window situated right above it all that time was the culprit after attempting to lint roll the faded sections off. Not my most evolved moment.
I got my hair touched up on Friday at Chris McMillan – the blonde bits were growing out and basically I wanted to extend them a little up again and even things out. The number of questions I get about my hair never ceases to amaze me and I always feel a little useless explaining that I used to bleach the crap out of it and then just stopped..least helpful response ever? Anyway, it was time for a little update. I made an appointment with Casey Carhart and went in slightly nervous about the first dye to touch my hair in almost two years..but she was so sweet and had exactly the light touch I wanted. The ends are brighter and the transition from light to dark more uniform now. Definitely recommend going to her if you want something similar done.
04/05/2011
10:25 am
Today: one of my favorite vintage dresses + silver nails. I'm one self-wielded snip away from committing to full bangs…I hated them at first but now am coming around to thinking they're worth the weird ways they make you work for them.
02/08/2011
11:15 am
One Teaspoon dress..I really really love this label out of Australia. The beading is done so well it actually seems like metal. Warrior princess is a vibe I can never pass up.
Sort of an outfit repeat for me I guess but I'm an extreme rewearer…wearing Zara jacket, LF dress, Jeffrey Campbell Climber boots, Marco Tagliaferri bag.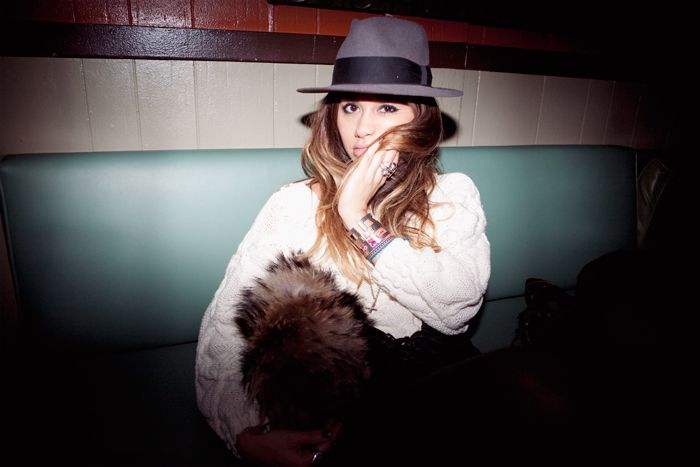 Face smushing in a vintage sweater I shrank to death and am quite sure I improved by doing so. At Akbar on Sunset.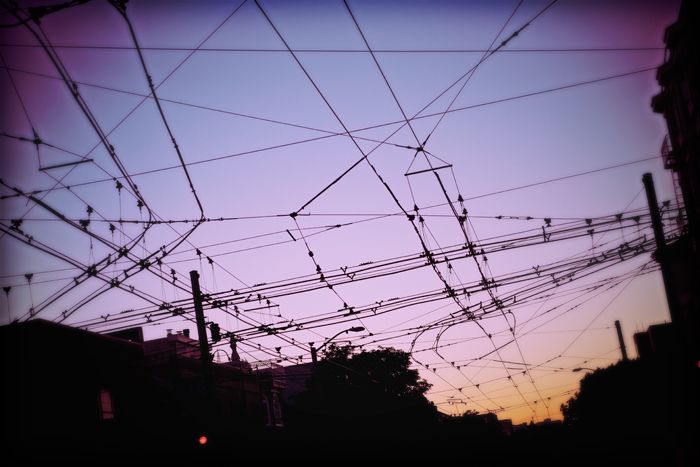 SF
Leopard coat in the rain
What my wardrobe favored in January..packing some of these for New York to probably wear very differently.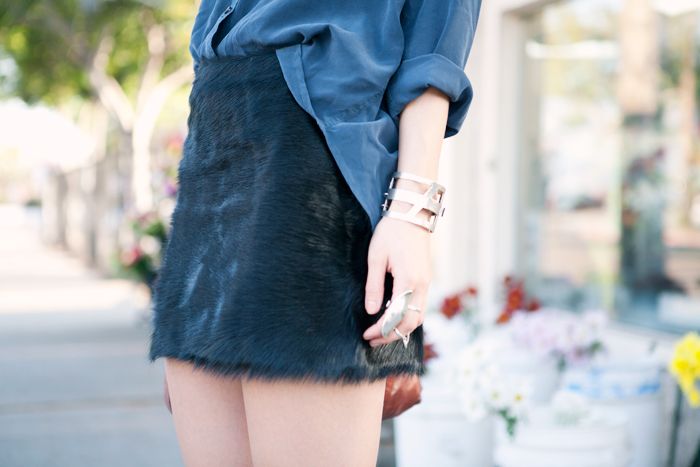 Detail shot of my pony Topshop skirt I got in Tokyo, worn with Equipment silk shirt.
Topshop fringe dress/top, Topshop leather shorts, Fiorentini and Baker suede boots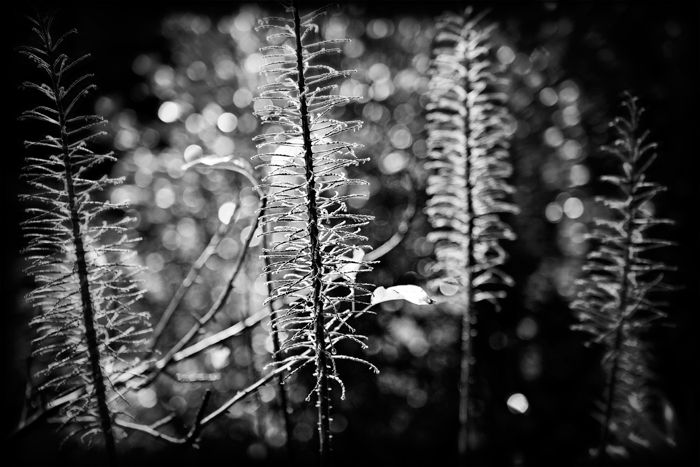 No idea what kind of plant these were
Best trailer ever?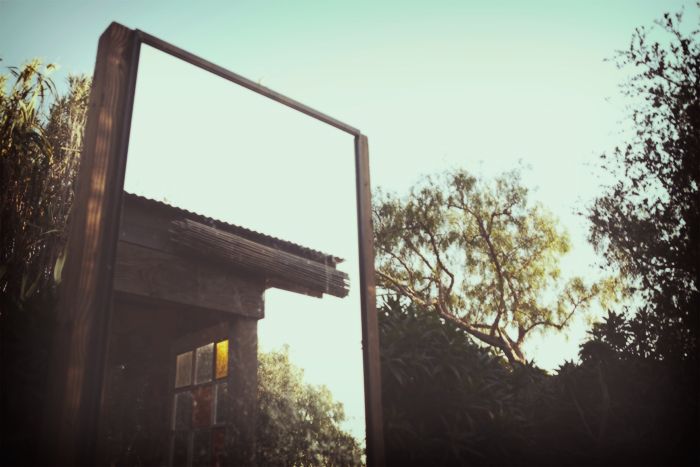 I took this at a shoot on location. Huge mirror, outsite, standing opposite a massive metal bathtub that looked like a bucket. So awesome.
One of my favorite purchases last year – sheer/asymmetrical/double layered 3.1 Phillip Lim dress worn with Marni studded Maryjanes. This stove heater device (I idiotically refer to it as the Bunsen burner) makes our place so cozy on 40 degree nights.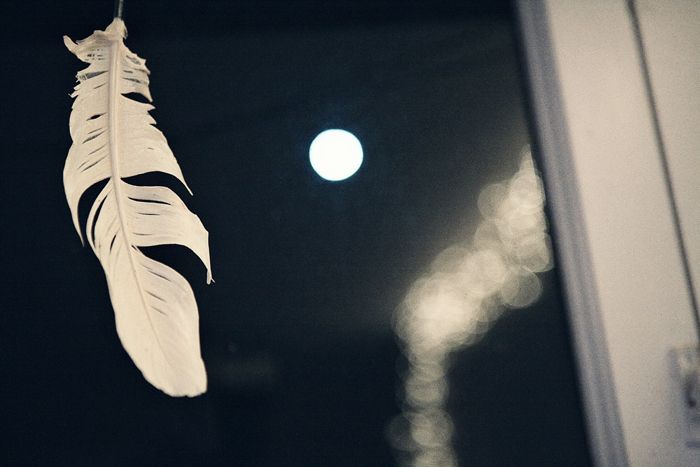 Youth vs. Future earring vs. the moon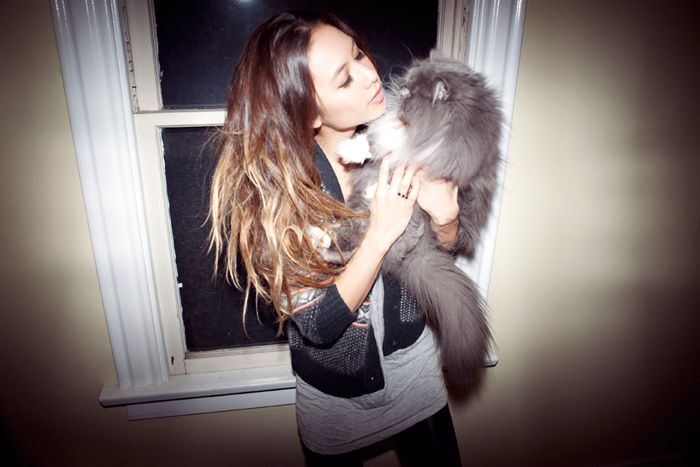 More Kumo love
Alice and Olivia buffalo plaid coat, pending rust poisoning
Looking even more disheveled and confused than usual, in Egoist sweater, Claude Maus dress, Camilla and Marc leather skinnies, Marni heels, and Theory bag.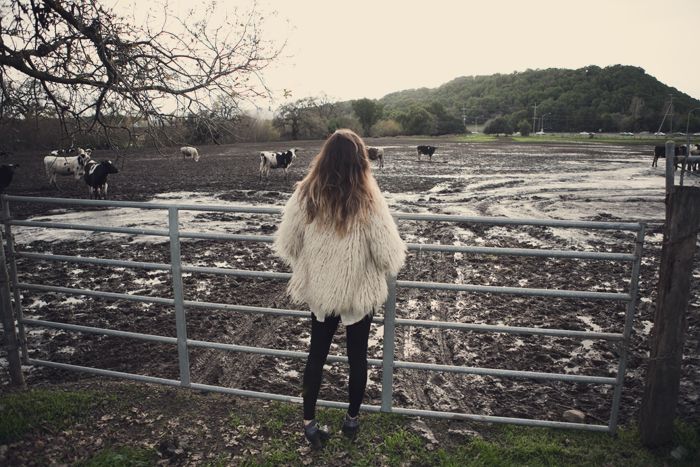 Cowgazing? Is that an activity?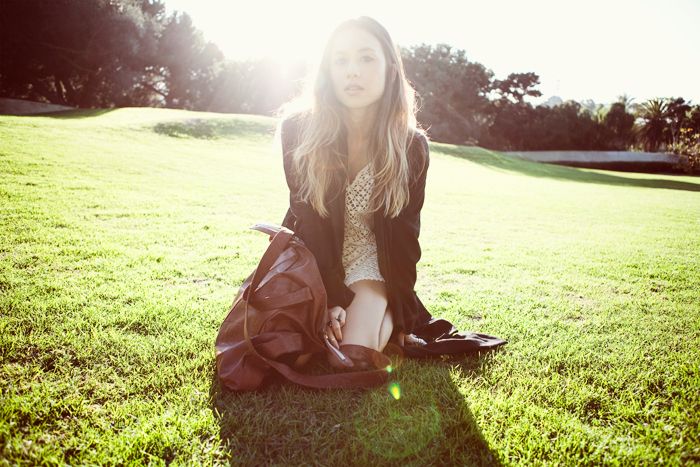 An empty park on a windy day.
Looking straight up on eerily quaint street in the Valley..warm and still enough to pause everything for a second.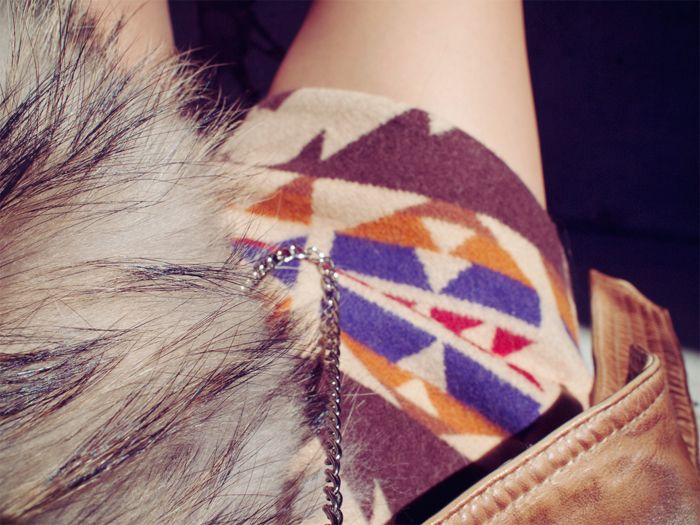 Pendleton shorts of tininess
San Francisco…Coit Tower in the distance. I've only actually been all the way up to it once but it's a good blurry memory.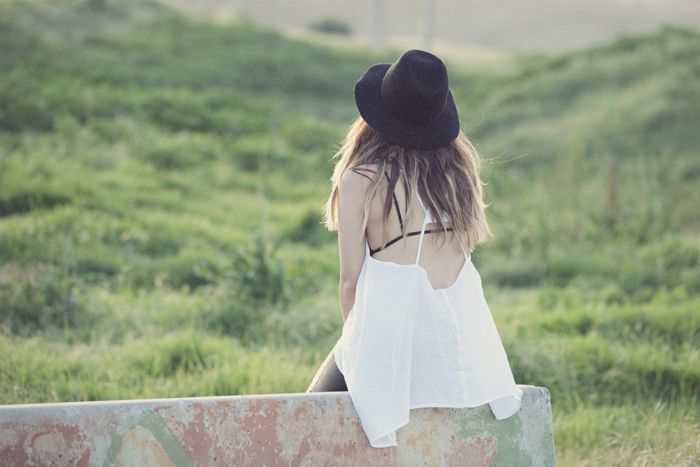 Slightly witchy Rag and Bone hat with a Stylestalker top, freezing as the sun went down.
Ok that should get me a little more caught up with posting. Now back to packing, the faster I finish the sooner I can go to sleep. Arriving in New York late tonight!
11/10/2010
7:16 am
(fashiontoast x Dannijo Isosceles Necklace, Zara leather jacket, LNA tank, Pendleton x Opening Ceremony wool shorts, Theory bag)

The cafe that doubles as my second home when I'm at my place in Silverlake. Mostly because I still don't have internet there. Or silverware, for that matter. This ruined Bryan's life a little bit when he was staying with me but we made a routine of lugging our laptops to LA Mill, him possibly multiple times a day (while I slept in..let me note that he sleeps about as much as a goldfish..but gives good post-lights out girltalk), to try and stay caught up on everything. Luckily they serve everything from breakfast and the best hot chocolate I've had outside of Italy to wine and some strangely varied dinner options. I can't be the only one that gets suspicious when restaurants serve Japanese food alongside pasta and caesar salad…
Anyway, we took these these shots before sitting down to answer emails for 4 straight hours and after I painstakingly taught him how to focus with a DSLR. Wearing pretty much all of my current favorite pieces..I bought the jacket at Zara in Harajuku this summer. I've got the exact same one in black that they sold last winter and immediately grabbed this one when I recognized all the detailing. I love that it gets visibly more broken in with every wear.