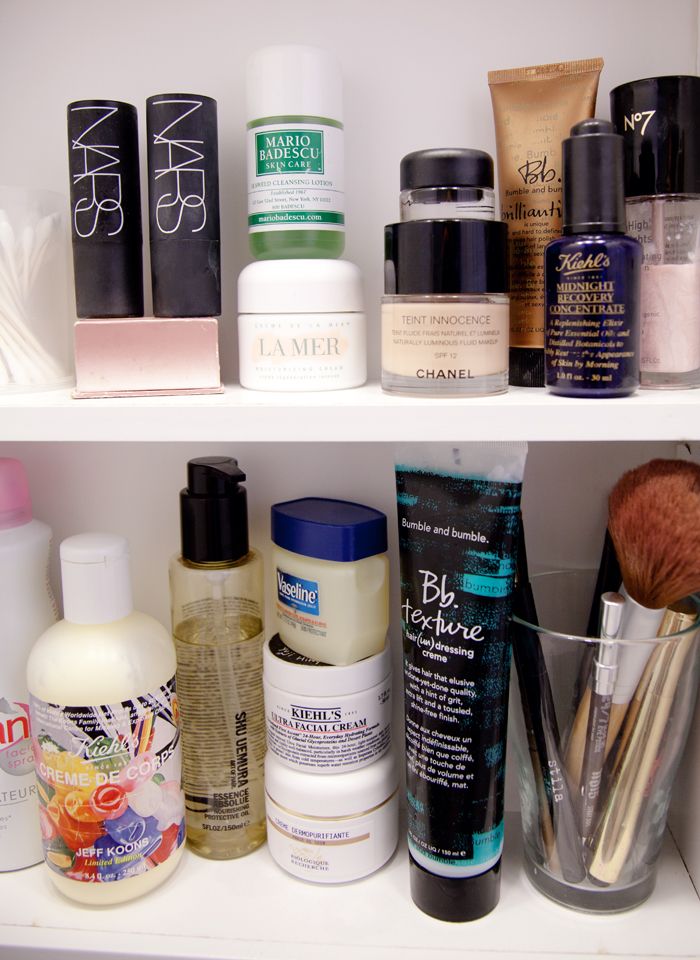 (NARS Multiple in Copacabana and South Beach, Benefit blush in Ten, Mario Badescu Seaweed Cleansing Lotion, Creme de La Mer moisturizing cream, MAC Fluidline gel eyeliner, Chanel Teint Innocence, Bumble and Bumble Brilliantine, Kiehl's Midnight Recovery Concentrate, Boots Illuminating Lotion, Ecotools brush, YSL Touche Eclat, Urban Decay 24/7 eyeliner in Stray Dog, Stila liquid eyeliner, Bumble and Bumble Undressing Creme, Vaseline, Kiehl's Ultra Facial Cream, Biologique Recherche Crème Dermopurifiante, Shu Uemura Essence Absolue, Kiehl's Creme de Corps, Evian Brumisateur)
I have sort of a fluctuating, wandering eye type of relationship with makeup – sometimes I become fixated on trying new products, and then I'll go weeks at a time using the exact same five. And then there's the massive stockpile underneath the sink I dive into now and then (last investigation turned up some Cargo bronzer I decided to re-love for a couple weeks). I'm actually more into skincare and creating the ideal system for myself. My current favorite look is just clean skin with a hint of cream blush and liquid liner catted out at the corners and a sweep of MAC's Shroom eyeshadow or NARS Copacabana for a bit of sheen.
Above are my current favorites I'm playing with. Bumble and Bumble's new texturizing cream is an update to their legendary surf spray, the tiniest bit gives you just the right amount of mussed up texture. My hair has this sort of inconsistent wave naturally so it really plays it up perfectly without giving me like, dreadlocks. Sometimes I'll follow up with a bit of the Shu Uemura Essence Absolue oil at the tips, mostly because it smells like everything good about flowers without the fake perfumey thing most similar products have. I became addicted to Kiehl's Ultra Facial Cleanser when Kiehl's Japan sent some to my hotel room in Tokyo last December, I'm on my second repurchase right now. I love that it's unscented and so mild. I'm obsessed with unscented things. I'm not so faithful when it comes to moisturizers, I feel like they're all so different so I'll alternate a bunch. Their Creme de Crops is my favorite all-over moisturizer but I always have a vat of Cetaphil moisturizing cream around too. The only color I'll experiment with for the most part is blush and bronzers, for summer a quick smudging of a NARS Multiple is enough but for evening I've been using Benefits half and half "10″ bronzer. It's pretty. For my lips 95% of the time I'm probably just using a bit of Vaseline/Aquaphor, if I do lip color I gravitate towards the zombie look with MAC's C-thru or NARS Chelsea Girls. Readers will ask me what lip color I'm wearing and most of the time it's nothing. I feel like I'm always too aware of it when I'm wearing anything heavier on the lip. The last few months I've been using Chanel's now discontinued (whimper) Teint Innocence but I also like Giorgio Armani's Luminous Silk foundation, both good because they're buildable and give sort of a glow-y look. My next task I've assigned myself is to try to find organic products that don't suck. Feel free to share your favorites in the comments, I'm curious!