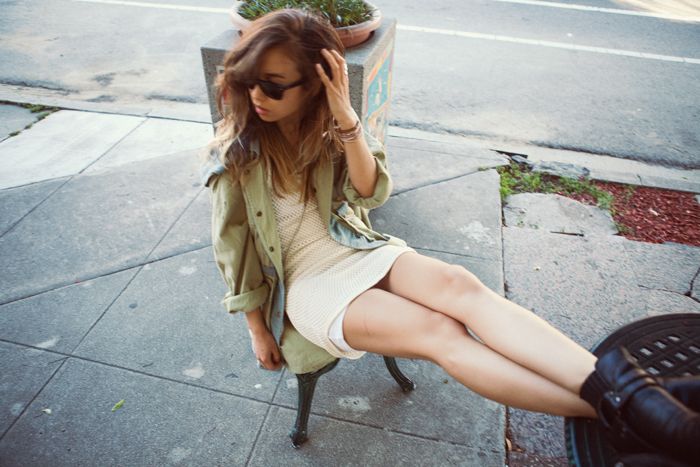 (Bec and Bridge parka, Isabel Marant dress over Herff Christiansen dress, Barbara Bui boots, Chan Luu bracelet)
I love the idea of throwing on large utilitarian-looking things that feel as if they've been beaten over rocks for a few centuries over small things that look to have washed ashore onto said rocks after failing at their original purpose of capturing marine life. Yes. It's all about finding the right balance. This Bec and Bridge piece is oversized and longer in the back and reminds me of a shirt a science teacher might wear. But it's a parka and therefore awesome.
I wore it with an Isabel Marant open knit cotton tank dress (?) I got at Creatures of Comfort and Barbara Bui motorcycle boots that I had dyed black from a much less wearable pewter. Well worth the two week wait and the involved process of removing the dye from the rivets one by one with cosmetic Q-tips dipped in nail polish remover. Actually that part was kind of fun. Right now they're looking a little obscenely jet black but they should slowly dull beautifully. End outfit post.