07/16/2011
9:54 pm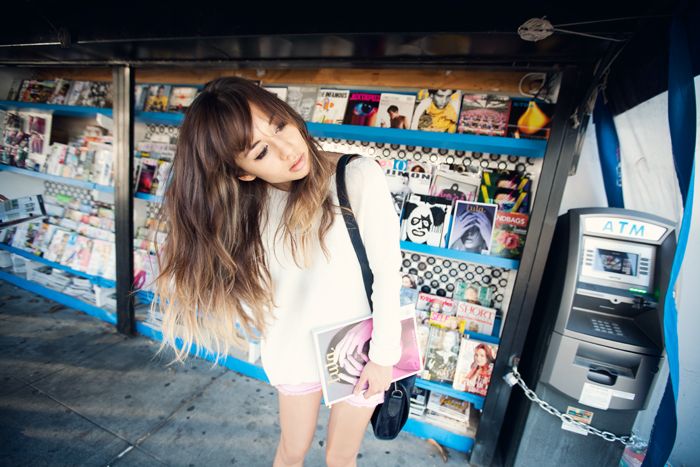 (Theory sweater, Isabel Marant shorts, L'Autre Chose wedges, Theyskens' Theory messenger bag)
Picking up the latest Lula at Sherwood in West Hollywood ie. my favorite magazine stand in LA. The owner Dimitri stocks everything and if he doesn't, he'll do everything he can to obtain whatever you're looking for…no matter how obscure. Even if it means direct calls to Brazil. Not quite sure how I'm going to celebrate the first day of Carmageddon…part of me wishes I was up on the helicopter ride above the 405 right now to see the emptiness for myself but I'll have to entertain myself some other way.
06/06/2011
10:29 am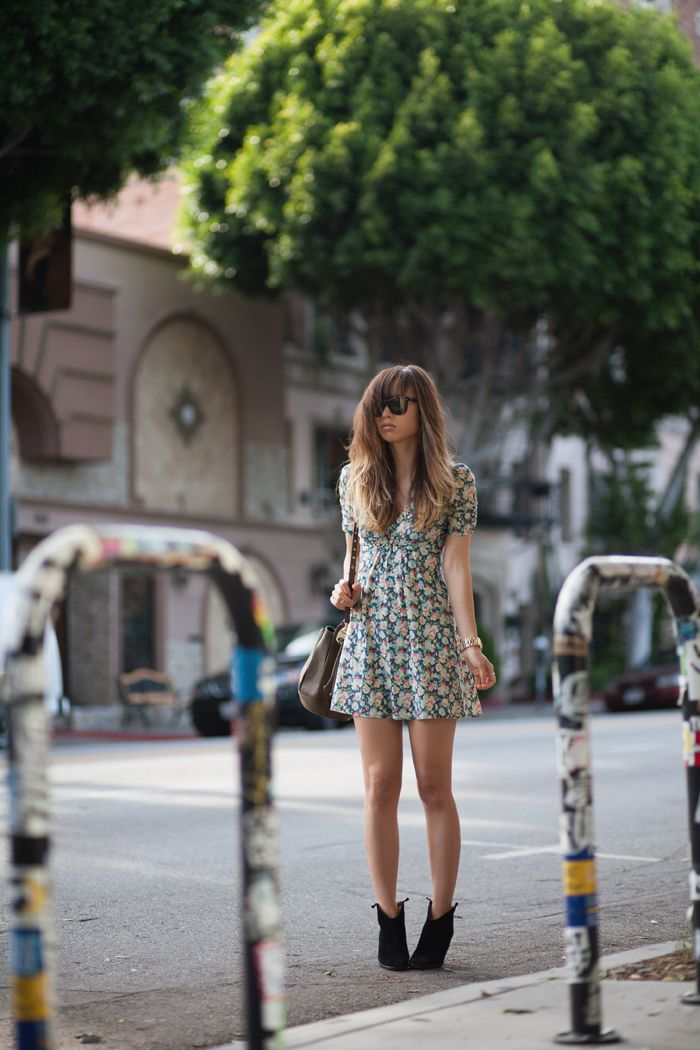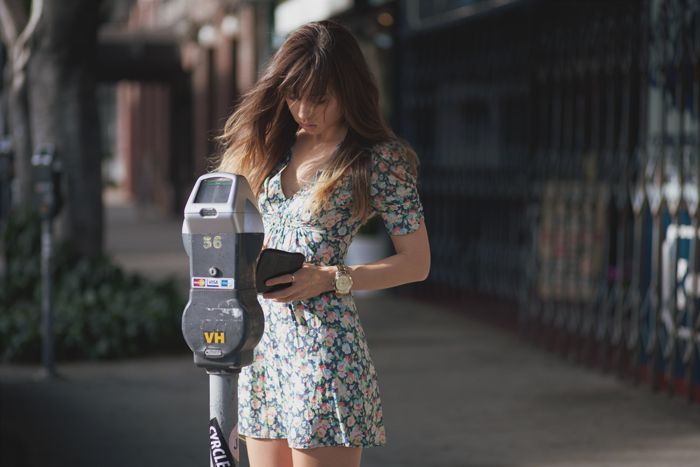 (Kate Moss for Topshop dress, Bimba & Lola bag, Isabel Marant suede boots, Michael Kors oversized men's watch)
I love that my readers have such a keen eye for pieces I've worn before, makes me smile. I've been in this back to basics mood lately and have been digging up some of the clothes I used to wear to death…this dress is one of the few floral prints in my closet but anyone who owns this little piece of Topshop history will agree that it's just..perfect. Doesn't really need much assistance so I wore it with a pair of Isabel Marant boots from a few seasons ago that I managed to track down, a bucket bag that I bought in Madrid last fall, and one of my newer acquisitions, this massive Michael Kors watch that's about five links lighter after taking it to a repair shop in Los Feliz. I've been meaning to buy a gold watch forever now but finally managed to follow through a couple weeks ago, mostly to try to make this Tokyo/Paris/London trip go more smoothly. Not groping about in my bag for my phone to get the time is a real novelty that I'm sure I will forget to appreciate almost immediately. Colin and I are leaving in a few hours for the airport and as usual I'm the sleep deprived loser scrambling around till three in the morning. Seriously though, packing for pretty much the rest of the month is so daunting that it's starting to feel pointless. The digital luggage scale and it's mocking beeps became the enemy at about midnight. Wish me luck getting at least an hour and half of sleep right now hah.
08/24/2010
5:20 am
1. twentysevennames sheer tshirt and thrifted suede skirt (think it was someone's DIY Halloween project at one point) shot with a Fuji Instax
2. the dreamcatcher I bought a few weeks ago by my window
3. kimono dress that Obakki gave me, worn with rolled down Erin Wasson x RVCA knit one-piece and RVCA side slit top that I lost at Narita last month in an attempt to get my suitcase under 50 lbs.
4. matcha lattes at Urth
5. Pacific Beach
6. view from a gas station – old VW bus flanked by palm trees
07/05/2010
5:42 am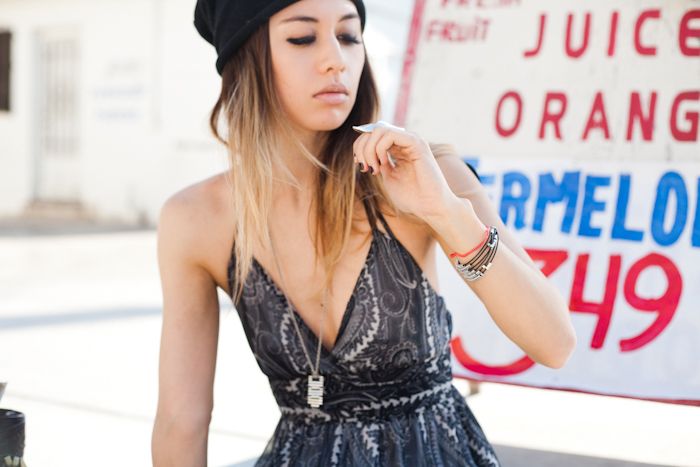 (Karen Walker shades, gifted Mercury Duo dress from Japan, Twelfth Street by Cynthia Vincent wedges, Alexander Wang Diego bag)
Summer is all about easy pieces like these..this is a pretty common 'type' for a maxi dress but I love the double straps that give way to braided leather at the neck and the fact that it's completely ruffle-less. Thank you Haruka and Yuka! Also wearing this dissected watch band that I picked up shopping along Takeshita-dori in Harajuku as a necklace.
Wore this for my first outing back at home in San Diego to go get ceviche and Mexican fruit salad..soo good. Tomorrow I pick up the keys for my new place in LA, can't wait…
Happy 4th of July to my US readers..hopefully it isn't as cold where you are as it is here tonight.