09/26/2011
11:04 pm
I bought this sweater in three colors last fall and haven't regretted the stockpiling once. CONTINUE READING
09/01/2011
7:55 pm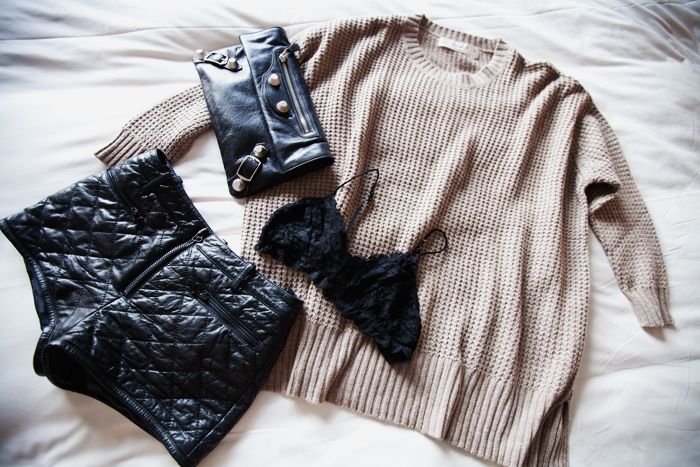 The sweater I'm wearing in the previous post is from Zara..always love a good waffle knit. Might be an extension of my love of thermals. It's almost long enough to be a dress but good to stick some shorts underneath. Pictured here with: 3.1 Phillip Lim quilted leather shorts, Honeydew's Camellia bralette, and Balenciaga giant hardware clutch.
09/01/2011
7:05 am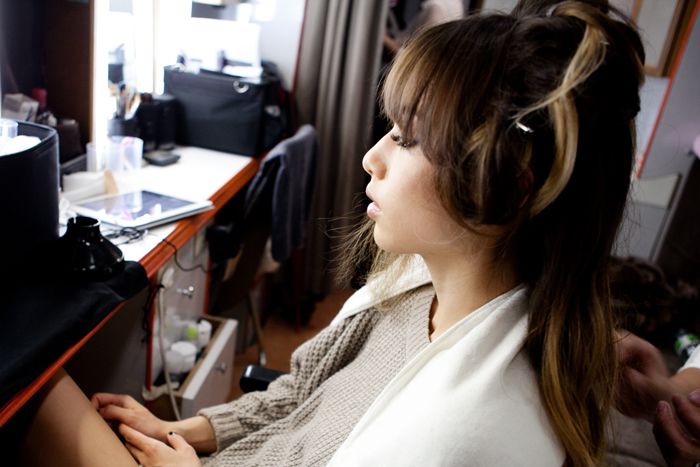 In the middle of some complicated drying/knotting ceremony at the hands of
Go Utsugi
on location in Yurakucho in Tokyo. I used to come to this area with my parents as a kid to go to The Press Club, which I remember was always an exciting occasion. I now know it like the back of my hand after this past week..or at least where to find the best coffee and the closest clean restroom from any given point. Anyway, this is approximately step 3 of 20 but I love that it looks like I'm wearing my own hair as headphones, reminded me of the actuals on the
Limi Feu SS09 runway
. Falls into the slightly creepy but awesome category.
05/08/2011
9:10 pm


(Theyskens' Theory bustier top, Alexander Wang knit bra)
With the amount of flimsy tank tops and scraggly sheer things I wear, what's underneath really counts. Alexander Wang does lingerie so rarely that I always make sure to look out for it – usually it's around springtime that anything is released, a couple pieces at a time if not just one. My first purchase was an elastic strap mesh layered one, last year it was a few athletically inspired pieces, and this spring it's this ribbed knit that lies perfectly flat against the skin. So comfortable it's addicting. Then this satin bustier top that I bought on Melrose shopping with Bryan a couple weekends ago that will be perfect layered over simple dresses, again with the thick elastic straps. Not as wearable for every day but so beautiful.
05/06/2011
6:00 pm
Certain items elicit so many questions that I thought it would be easier to post about a few of them at once. Daily I get about 50 emails asking what kind of camera is behind the blog. We shoot with a Canon 5D and a Canon 5D Mark II, both of which cause for no complaints. I'm not necessarily anti-Nikon, Canon just happens to be what we started out with a couple years ago. Second, and probably because there are about a million different models of them out there, I get a lot about the exact style of Ray-ban Wayfarers that I wear – I looked up the code on the side and they're these. Forever favorites. And lastly, the low-heeled motorcycle/cowboy boots I always wear are by Jeffrey Campbell, I got them at an LF sale in La Jolla last year and have worn them so much that I just got the rivets and heels replaced AND sought out a similar style with a higher heel by Barbara Bui.
Oh and it's obviously not pictured here but the elastic strap black minidress that I wore at Coachella is by Australian brand One Teaspoon..I got it at Live on Sunset right before the drive out. Obsessed. I wore it with a shearling vest by (also Australian) Woodford & Co., and yes it was cold enough the first night for it! Deserts. Yeah. Hopefully this rambling will sort of suffice until I manage to do a wardrobe favorites post.