02/03/2010
10:03 am
(vintage jacket and top, BDG cardigan and beanie, Grey Ant sunglasses)
At Azucar in Ocean Beach. So good it makes you wonder why Cuban patisseries aren't on every corner.
Sunglasses are pretty much required during all daylight hours in Socal..the more they approximate the size of your head the better. Enter my newest addition, Grey Ant's Status shades. Too lazy for mascara or blinded by the nonstop sun, I think these will take care of it.
I spent the day in Costa Mesa at RVCA working on my next collection for Spring '11 with Kristin, which I'm really excited about…especially since this time around it's been expanded to 10 pieces. The Triad Tank and Machinery Dress that were previewed here will officially be for Fall '10 and available in a couple months.
01/29/2010
11:22 am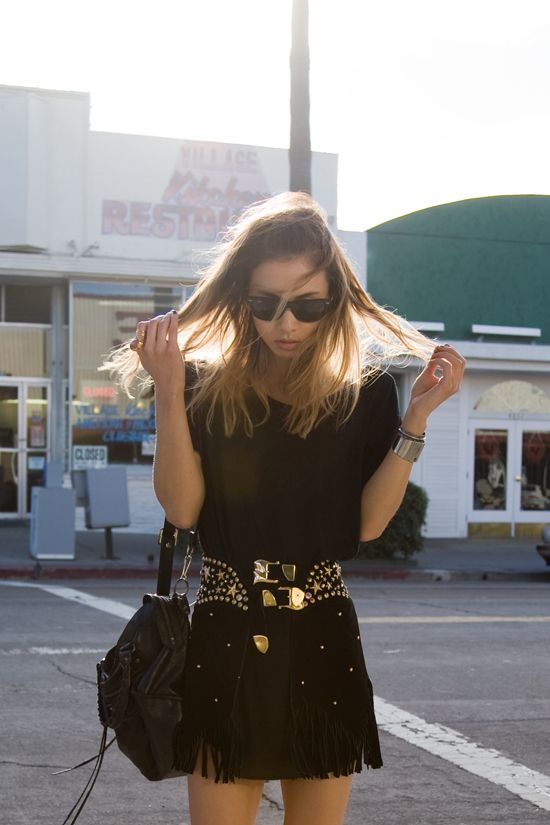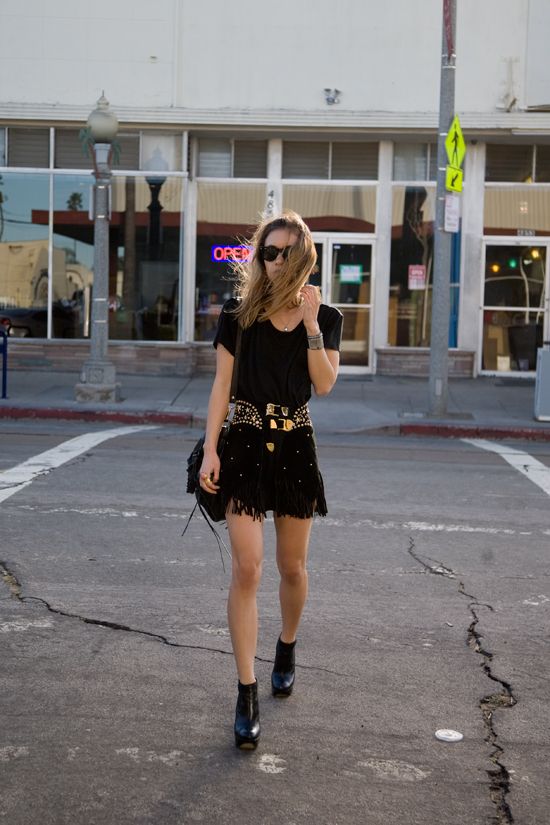 (Scout tshirt dress, vintage suede fringe..thing, Topshop boots, Balenciaga bag)
Some thrift store finds are a little more grossly perfect than others..this loincloth/belt (see it more clearly here) is starred up, studded up, and double belted up. And it cinches in tightly at the high waist where nothing ever fits me. Quadruple win. One of my friends is convinced it's a cropped single thigh chap (questionable singularization acknowledged) for the burlier cowboy. But the minimal sense this makes fades the more you try to conceptualize it logically. So loincloth it is. Then again this is the same man that asked me today what kind of berry gatherer I would be…"Would you pluck them individually? Or bunched? Why did I ask, you would pick each single morsel and place it in your satchel. You should do a shoot with cavemen." Prompted by me telling him how much of a relief it is to be free of corrective lenses so that were I to be suddenly time warped to the Neolithic I wouldn't be the weak myopic one in the tribe. Since you were wondering. And I know you weren't. Worn with tshirt dress I never knew what to do with before, second day hair, my most beaten up bag, and a magical double shadow in a crazy crosswalk the earth is determined to split open.
By the way some of you have noticed I've been posting some odd photos here and there lately..it was the closest thing to a New Year's Resolution that I had to start taking more pictures…I used to screw around with photography and sort of stopped for no reason at all. It's felt kind of good to play around with it again. But of course Colin's photos will continue to reign..we tend to have very different takes on the same situation and his will to experiment with photography as far as his mind will take him has never ceased to amaze me.
xx
01/26/2010
3:40 am
Last week was rain-soaked and amazing. Driving through water logged alleys turned rivers and staring at 20 foot waves at midnight is fun.
01/24/2010
9:05 pm
(Forever 21 crystal headband and zipper jeans, Grey Ant Status sunglasses, thrifted sweater, American Apparel tshirt, Dolce & Gabbana wedges, Givenchy bag)
I have an issue with very low prioritization when it comes to denim..all my shorts are gross cut up things from the thrift store and I can't remember the last time I tried on some high-end jeans. Most of the time when I find myself wanting new jeans I just 'customize' my existing pairs, which rarely ends up right and leaves me with less than I had to begin with. But somehow when I ordered these jeans online a few months ago they slid on perfectly upon arrival. Weird. I wore this out to sushi and magazine stand-ing and then shopping.