05/15/2011
8:45 pm
(Whyred sunglasses, Isabel Marant Muddy sweater, vintage leather dress, Topshop boots, Fendi bag)
I peeked through the blinds at 6:30 this morning and was groggily pleased to see it was raining but all is back to normal now. Wearing Isabel Marant's crew neck sweater I ended up being unable to resist over a vintage leather dress from a store in Venice Beach that has since closed. Going to catch up on life today and hopefully reward myself by curling up with The Andy Warhol Diaries later on. One of the most quotable books I've read in a while.
05/13/2011
10:40 pm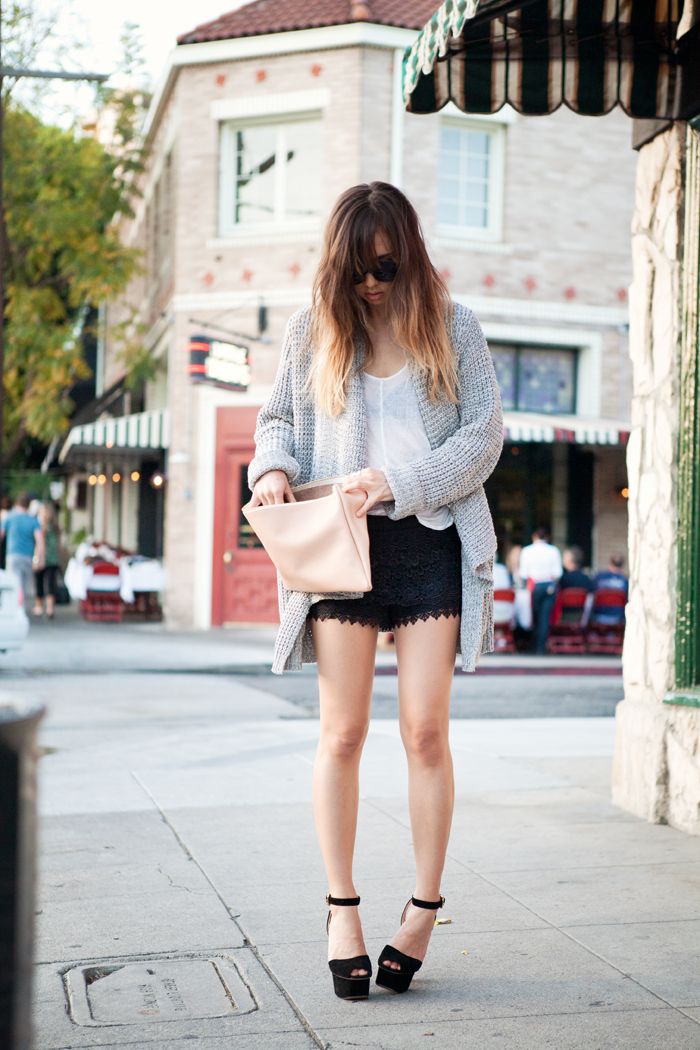 (Line cardigan, twentysevennames tshirt, random shorts from Melrose, American Apparel clutch, Forever 21 sunglasses, Prada platforms)
I've had this cardigan for over a year now and never posted it – totally not representative of our relationship. It's excellent for tossing on over virtually anything. And I just really like waffle woven things. The shorts I bought a few weeks ago when Bryan was visiting, we went shopping along Melrose and I picked up these shorts at one of those generic stores that sells a mix of glitter-flecked slutty things and marabou trim pens. Perhaps predicting that I would forget what the store was called (if I even checked?), I stocked up and also got them in white and brown. Although Bryan jumping up and down and declaring them "so this season Dolce & Gabbana" may have had something to do with that too.
05/13/2011
7:20 pm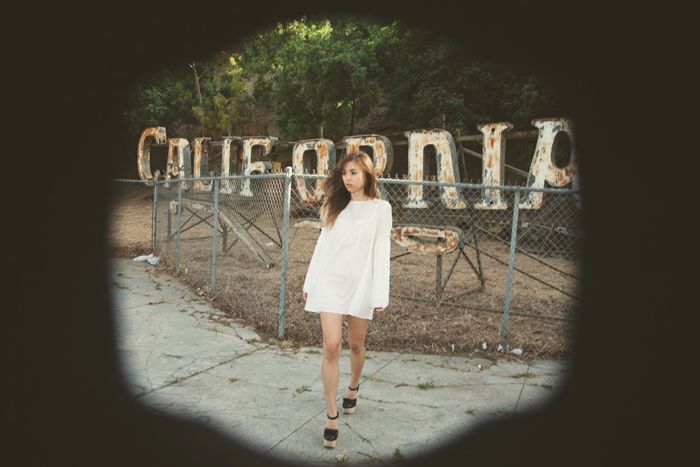 (Therese Rawsthorne dress, Chloe Sevigny for Opening Ceremony Mary Jane platforms)
Today's inspiration in hindsight: kindergarteners and angels, and maybe the entire existence of Lula magazine. I realized I wasn't really making use of all the pretty dresses in my closet, so I put on a pretty dress. This one I got in New Zealand, and it's perfect with the closest necklace in sight, hefty wooden blocks on my feet, and very little sign of a breeze.
(sorry, I'm posting this again as Blogger was having problems the past day and a half..all blogs were in read-only mode during that time and apparently all posts and comments made right before it were subsequently removed)
04/22/2011
11:20 am
22/04/2011,
ankle boots, california love, coachella, isabel marant, lover the label, palm springs, photo diary, topshop, vintage, white dresses anonymous