05/03/2011
6:10 am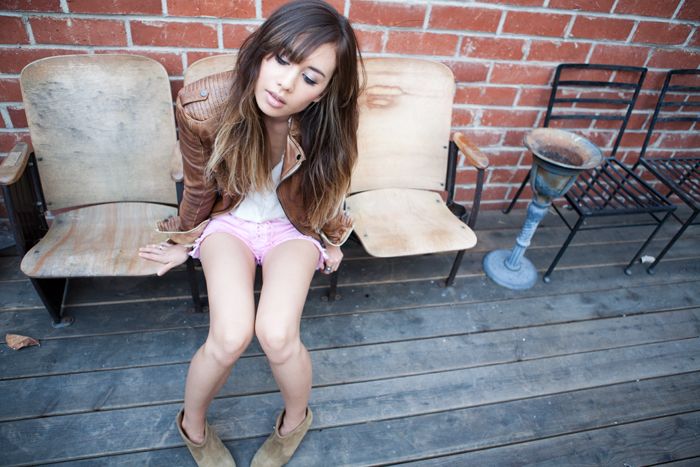 (vintage silk shirt, Isabel Marant shorts, Zara jacket, ASOS hat, Topshop boots, Chan Luu bracelet)
New favorite default outfit…comfortable and just barely not boring. These sickeningly pink shorts are one of my favorite purchases for spring. Love the lace-up detailing and their ability to go with every mushroom-ish nothing-colored thing in my wardrobe. Perfect!
06/07/2010
9:04 am


(gifted Stolen Girlfriends Club 'honcho' (thanks Marc!!), Alexander Wang asymmetrical dress and Diego bag, vintage arrowhead necklace, Target thigh highs, Jeffrey Campbell x Free People boots, Ray-ban Wayfarers, Forever 21 and Pamela Love rings, Zara motorcycle jacket)
More from Vancouver…here outside Cafe Medina after lavender mochas, mini berried-up waffles, and the best open faced salmon sandwich I've ever had…not that that's a food category I indulge in frequently but still. Breakfast will always be my favorite meal.
This dress is almost disgustingly perfect..asymmetrical hem, edges that look like they were hacked up with pinking shears, and the sort of shapeless I can't stay away from. And slightly more street-ready credibility than the actual slipdresses that I seem to think are okay to wear as legitimate dresses. The lavendery gray knit was one of my favorite pieces from this season's Welcome to Nowhere collection. Strange that the two pieces' diagonal lines parallel so cleanly…I promise I didn't plan that.
03/08/2010
11:15 am
(Karen Walker sunglasses, Zara jacket, Pink Adobe dress, Target socks, Miu Miu clogs, vintage bag)

Arrived in Tokyo a few days ago…spent the first night at my grandparent's place, went shopping with my mom and aunt, saw most of my rather extensive family out here in one way or another, met Colin at our hotel after he flew out separately, took him immediately to some strange party on the second floor of a sushi restaurant in honor of my mom where he was called both Tom Cruise and Tony (??) and my hair was pet by strangers, attempted to act as interpreter between him and my grandparents, ended up at only one train station by accident, watched multiple people around me eat fish intestines, discovered the wonder of pocket heaters, semi-jogged a mile in freezing cold rain, started to not miss the instant everything-ness of my iPhone, spent about 2000% more on food than clothing, including corn soup flavored chips and bear shaped bread, burnt my tongue on some of the best coffee of my life, and bought this little striped smock dress. Next up: working with Elle Girl Japan, shopping in Harajuku, hopefully having dinner with my favorite uncle, and a trip to the countryside.
02/11/2010
9:59 am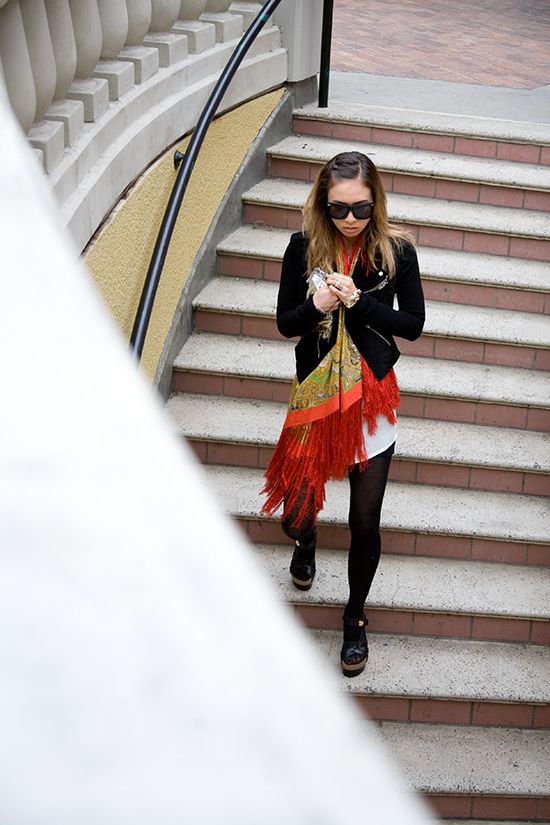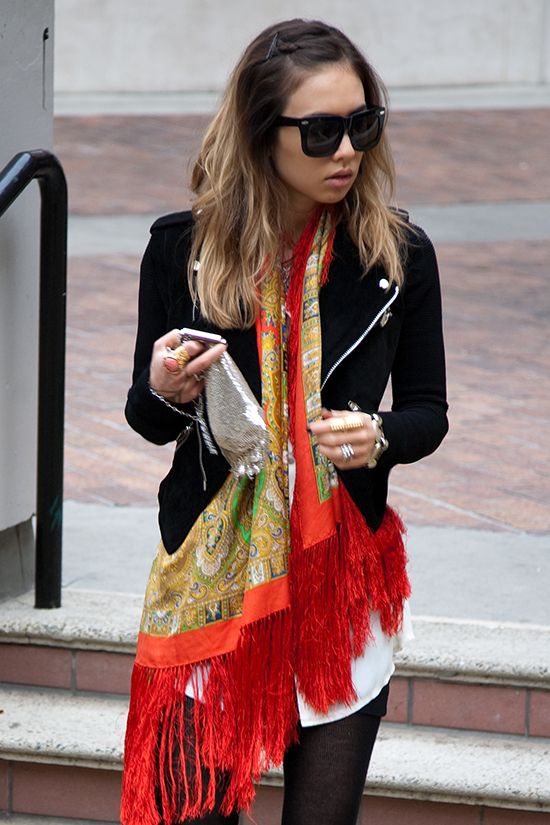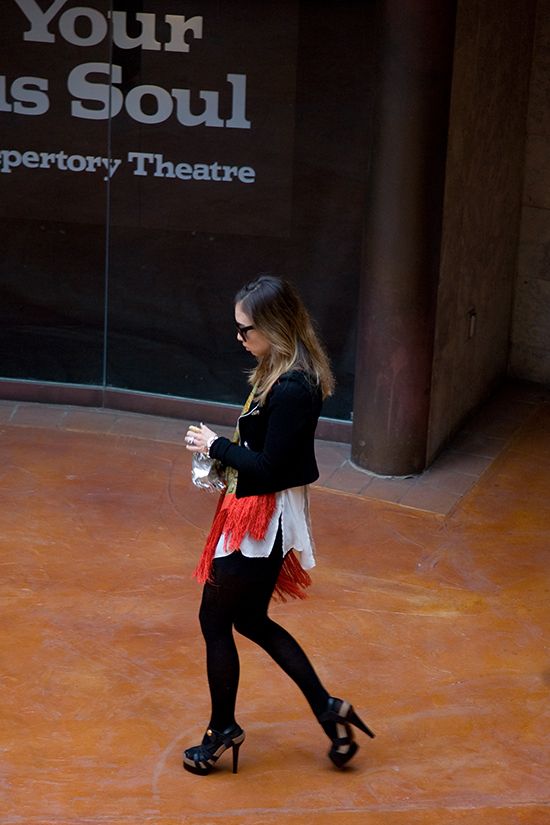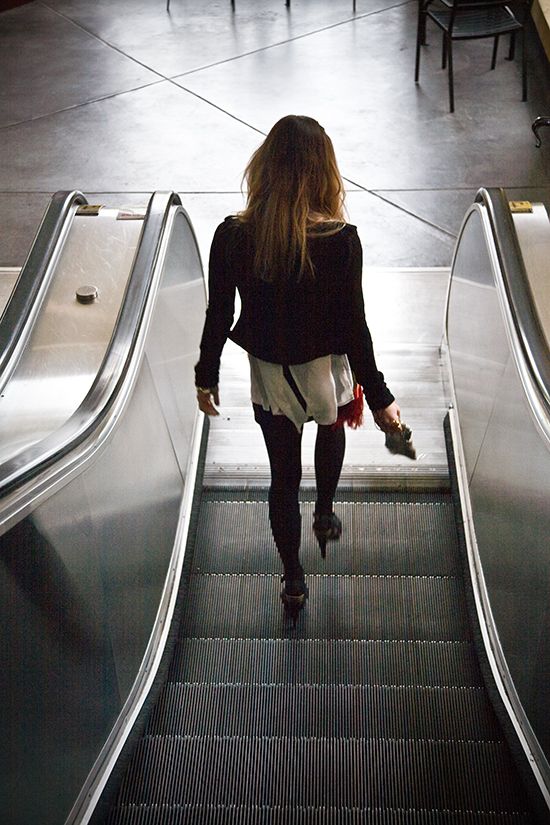 (Alexander Wang jacket, vintage sheer shirt, skirt, scarf, and metal mesh bag, Balenciaga sandals, Grey Ant sunglasses)
I started the morning off cutting into an unripe mango and forcing myself to eat it anyway, opening the door to the UPS guy in an awkward non-outfit, and alarmed by the sudden existence of Google Buzz on my screen, and I really think all of this happening within ten minutes of waking up set the rest of my day off kilter. So the plan to spend the day packing to leave for NY the next morning (well, now this morning) and fitting in an event in downtown SD before we left somehow turned into Colin and I driving to Newport Beach to do something that took five minutes and with canceled flights that now have us arriving in New York on Sunday instead. Awesome. But must have been meant to be. I'm pretty depressed about missing so much but 70 degree temperatures for the next couple days sound a lot more friendly than a legitimate blizzard.
And the clothes…still obsessed with this jacket and I thrifted the massive scarf a couple weeks ago. I love how it obscures all it touches and takes center stage. I always wonder why so many scarves aren't designed with about five times more volume but I guess I don't have to anymore.