08/14/2011
8:00 am
07/26/2011
5:43 am
The simultaneously ubiquitous and elusive 'Dicker' boot by Isabel Marant. I tried them on at Barney's in New York this past February and almost caved..should have just gone for it but at least I can really appreciate them now. They have this rugged feel ideal for wearing every day (and I have been) but the heel makes them just feminine enough. Obviously the battle between taupe and black was too difficult. Wouldn't want to break my brain and all.
07/01/2011
3:34 pm
(Zara silk top, ba&sh leather skirt, Topshop boots, Balenciaga bag, Ray-ban sunglasses)
I picked up this leather skirt (yes, essentially a loincloth) in both red and black while I was in Paris, black was an obvious yes but the red one seemed like I could have fun with it too. Wore this on what was apparently the hottest day of the year in London. The humidity makes these summer days so much gnarlier than California's! I couldn't stand to keep my hair down for longer than it took to snap these photos. And I'm not even going to try to describe the conditions in the Tube on the way there. A couple days before this I was an intricate multiple knit and shearling combination to keep warm and even that was barely even doing the trick. Good thing I brought (or..bought while over here) options. Oh, and I have no idea why it looks like I put in purple hair extensions here, swear to you no such thing happened.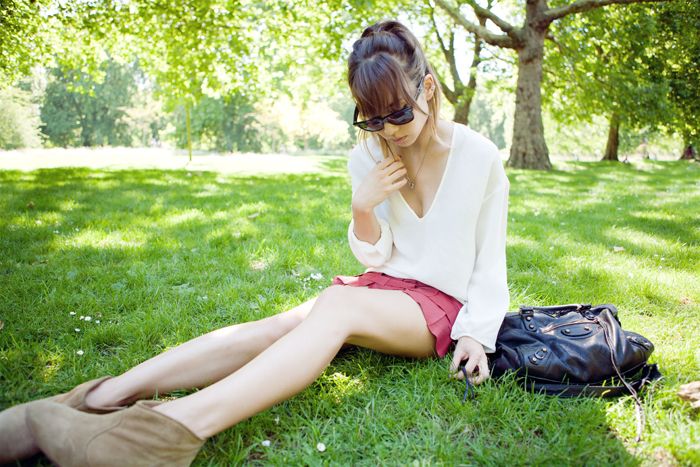 Cooling off in the shade in Green Park. London is amazing, so much to do here at every second and everyone is so nice! The first day I met with some lovely people from Topshop for breakfast and they convinced me – I'm definitely going to make it a point to come back for London Fashion Week in a couple months.
06/06/2011
10:29 am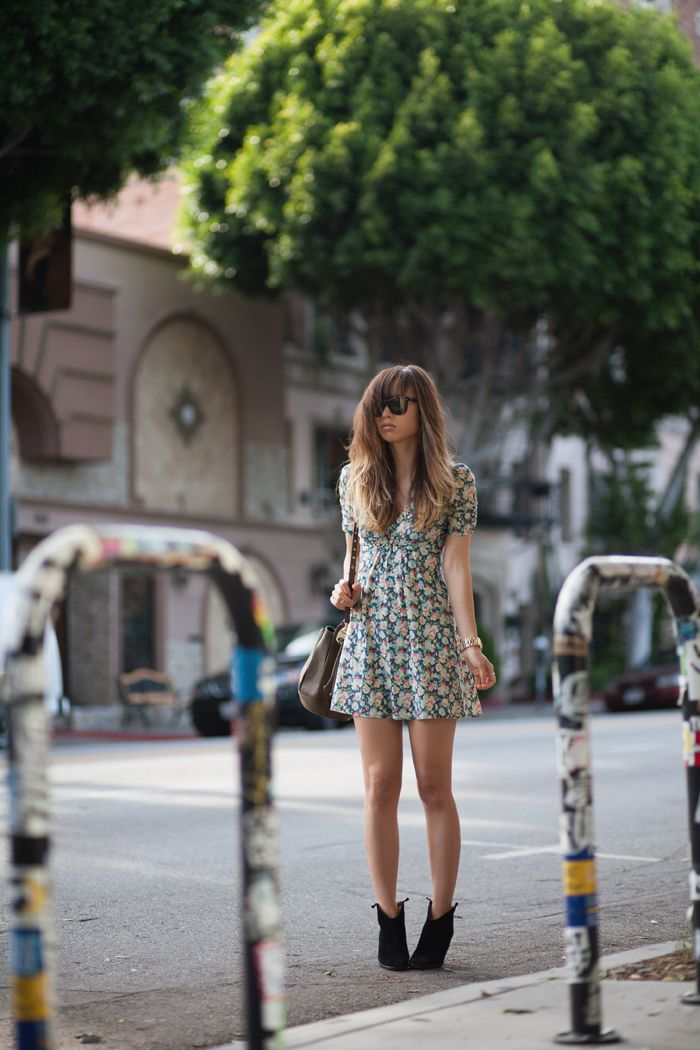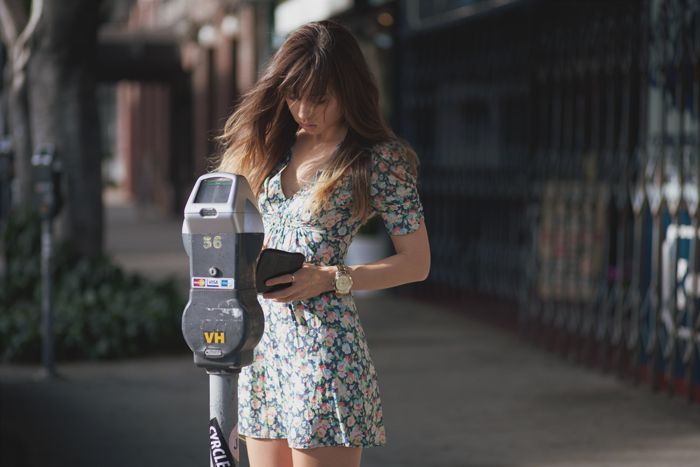 (Kate Moss for Topshop dress, Bimba & Lola bag, Isabel Marant suede boots, Michael Kors oversized men's watch)
I love that my readers have such a keen eye for pieces I've worn before, makes me smile. I've been in this back to basics mood lately and have been digging up some of the clothes I used to wear to death…this dress is one of the few floral prints in my closet but anyone who owns this little piece of Topshop history will agree that it's just..perfect. Doesn't really need much assistance so I wore it with a pair of Isabel Marant boots from a few seasons ago that I managed to track down, a bucket bag that I bought in Madrid last fall, and one of my newer acquisitions, this massive Michael Kors watch that's about five links lighter after taking it to a repair shop in Los Feliz. I've been meaning to buy a gold watch forever now but finally managed to follow through a couple weeks ago, mostly to try to make this Tokyo/Paris/London trip go more smoothly. Not groping about in my bag for my phone to get the time is a real novelty that I'm sure I will forget to appreciate almost immediately. Colin and I are leaving in a few hours for the airport and as usual I'm the sleep deprived loser scrambling around till three in the morning. Seriously though, packing for pretty much the rest of the month is so daunting that it's starting to feel pointless. The digital luggage scale and it's mocking beeps became the enemy at about midnight. Wish me luck getting at least an hour and half of sleep right now hah.
06/03/2011
12:59 am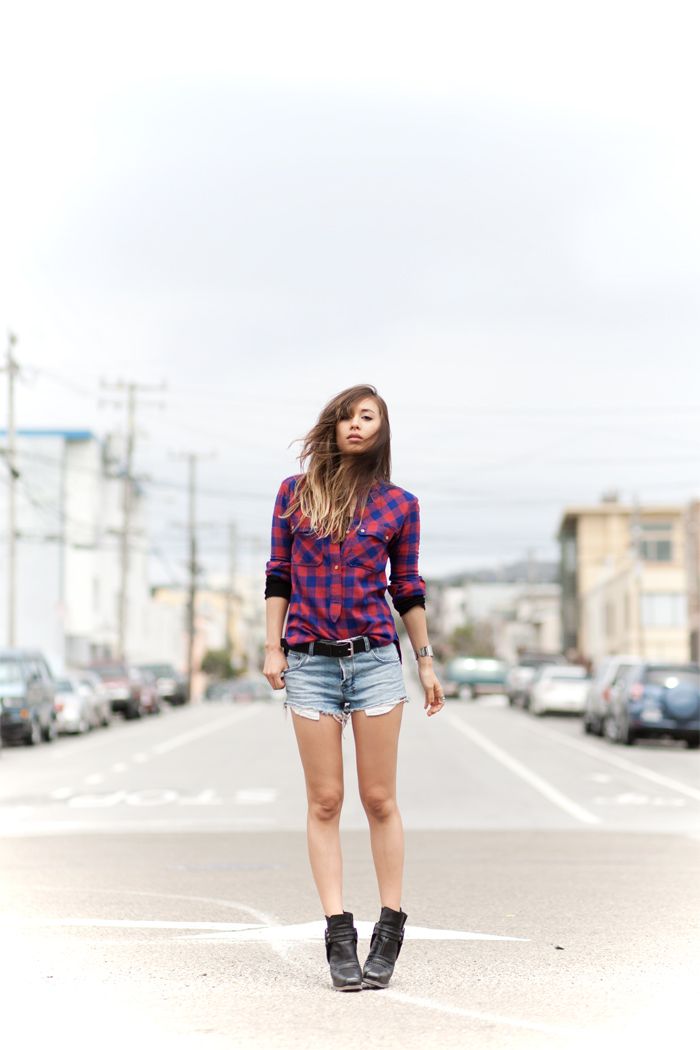 (Isabel Marant shirt and belt, LF ribbed shirt, Ksubi shorts, Barbara Bui boots)
Buffalo check is usually best relegated to camping gear catalogs (looks excellent on scratchy blankets) but is occasionally successfully feminized..Isabel Marant's version is shrunken, collarless, and can be left open-ish via ideally sparse button placement. Plus Isabeli Fontana kinda sold me on the idea looking all perfect wearing the same one in the latest Vogue in an oddly inspiring athletic themed editorial. Brazilian models are very useful when it comes to that sort of brainwashing. I layered it here with a simple black long-sleeved shirt cause it was windy and on the verge of not even being appropriate to have opted for shorts.
Let me know what you think about the site redesign! Still working out some kinks but everything should be much neater..and the search function is back along with archiving that makes sense. The goal is simple and clean so hopefully that was achieved.