(Alexander Wang coated tweed jacket, T Alexander Wang leather skirt, Balenciaga oxfords, Theyskens' Theory Vera backpack)
The very last day in Paris in a highly waterproof outfit, shot by beautiful Avenue Montaigne. The gates outside their Abercrombie look just as nice though.
The Grand Palais backlit all special before the Paco Rabanne show.
Bryan and I rented an apartment in the Canal Saint-Martin area…I love staying in a different arrondissement every time I'm in Paris. I've done Le Marais, Les Invalides, and Montmartre so this was a fun change. Plus I had an entire loft to myself with a massive circular bed (with circular duvet!) in the middle of it. You could roll over fifty times and still not fall off. Readjusting to rectangles after those two weeks was rough, maybe ongoing.
Café Charlot in Le Marais is requisite, they have the best breakfast and if you get a good table it's advisable you drink lots of wine at it. My favorite was a night here with Lily Kwong and Candice Lake. They are both really tall and beautiful.
More from Avenue Montaigne. When these were taken I had no idea what was about to happen to me at Givenchy. So innocent. More on that later.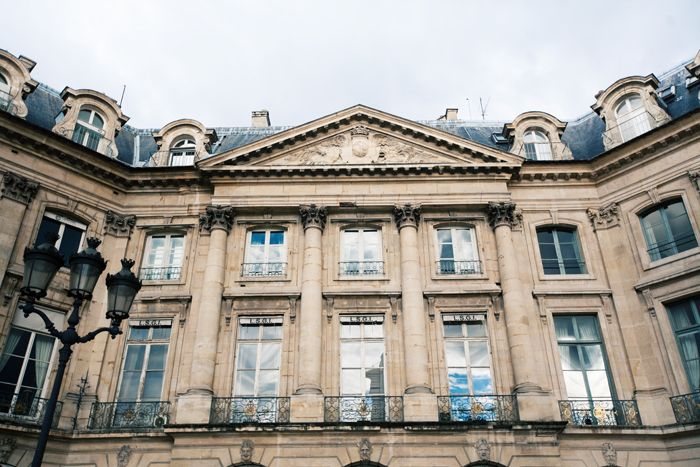 Stormy skies reflected off of the Ritz windows at Place Vendôme.
Visiting Sandro is a top priority in Paris..their Rue Vieille du temple has the best selection. I picked up their Vaillante jacket and wore it to keep warm on a bike ride from Le Marais to Canale Saint-Martin. Kept it in the family (country) with a Carven shirt, Céline sunglasses, and A.P.C. lamé shorts.
Slowing down businessmen everywhere I go, wearing a Vanessa Bruno romper, Barbara Bui leather jacket and bag, and Balenciaga oxfords.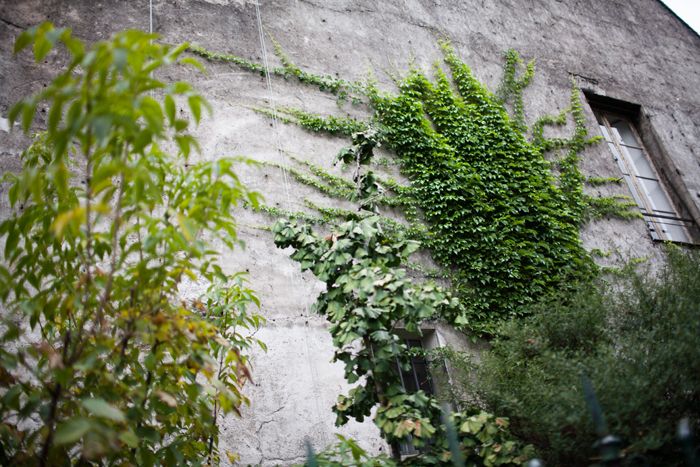 Botanical Grinch hand!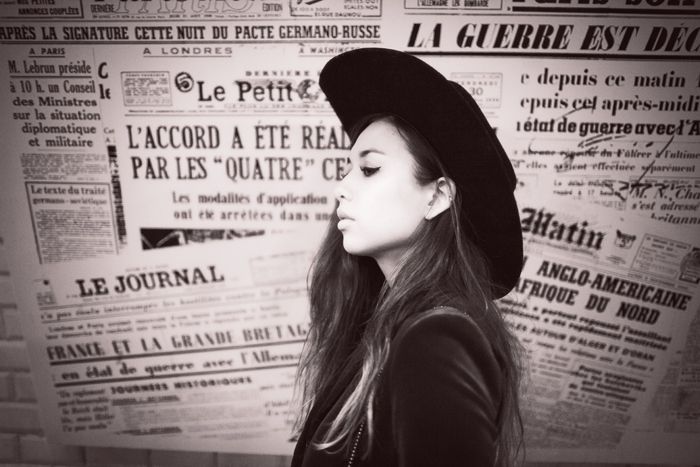 Nevadan hat, Paris Metro, what.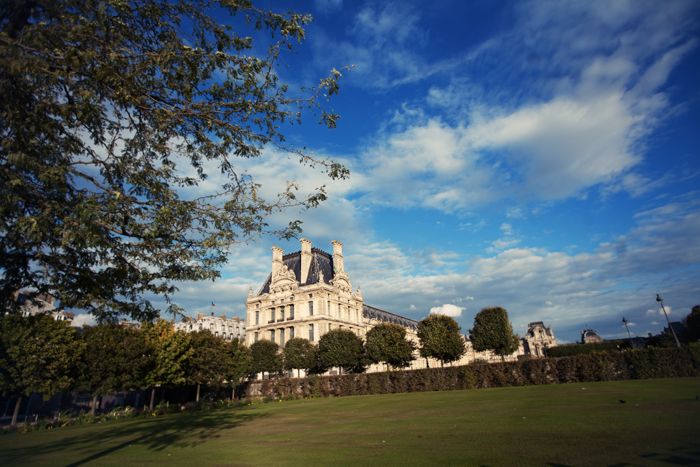 Most directions you look in at the Tuileries are sickeningly photogenic.
Some favorites from the Barbara Bui show..tube dresses that are sack-like in the middle and topped with backpack shirts, yes. I would totally wear these near walls and pretend I was in a '90s editorial.
By the sinks at Le Dôme du Marais, chic restaurant, actual dome.
The days just got warmer and warmer as my stay went on, which I had no problem with. I wore this Iro dress a couple times at night as well, it's made out of this knotted up leather twine and is stretchy like an old tire. I like it.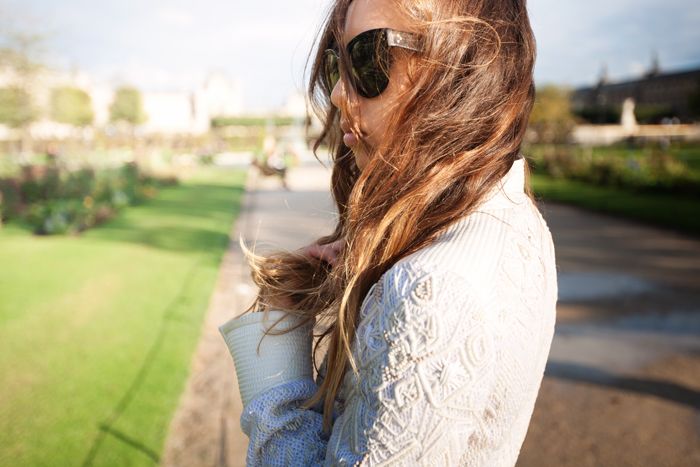 Detail of the texture on this beautiful Barbara Bui jacket.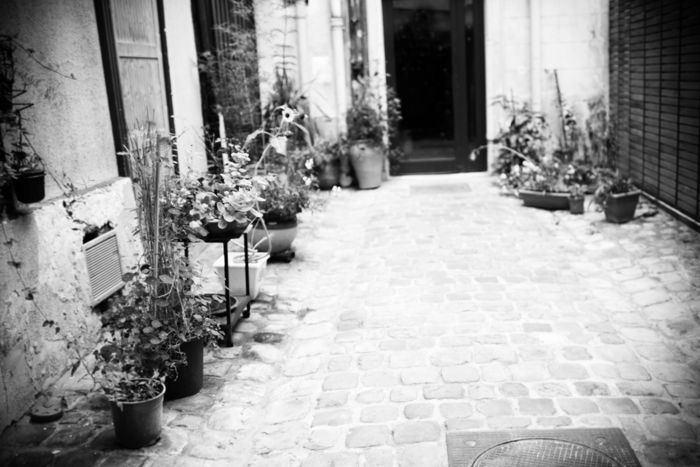 The courtyard to our apartment. Every morning, pre-shower, we got dressed in gigantic coats and like, little else stumble outside for coffee and take in the sunshine and try to one-up each other in saying crazy crap to make each other laugh. That might explain our entire relationship though.
I loved the Costume National collection, stark and strong and really wearable too. The printed sunglasses and layered folds of fabric are working for me.
Never enough of Parisian skies.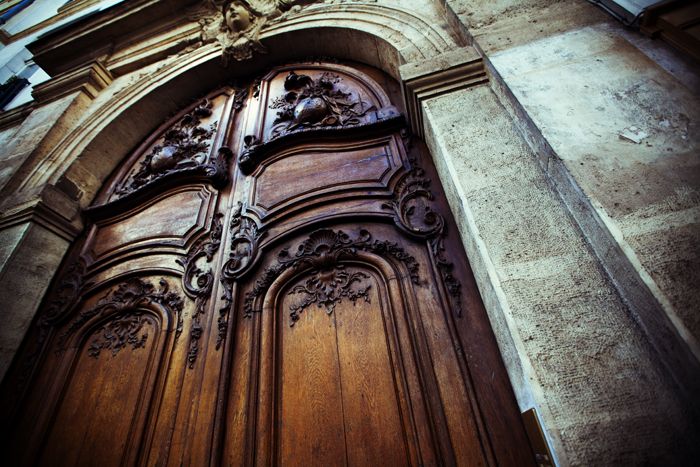 These look sturdy.
Whatever has caused me to not own one of Paco Rabanne's metal dresses will soon change.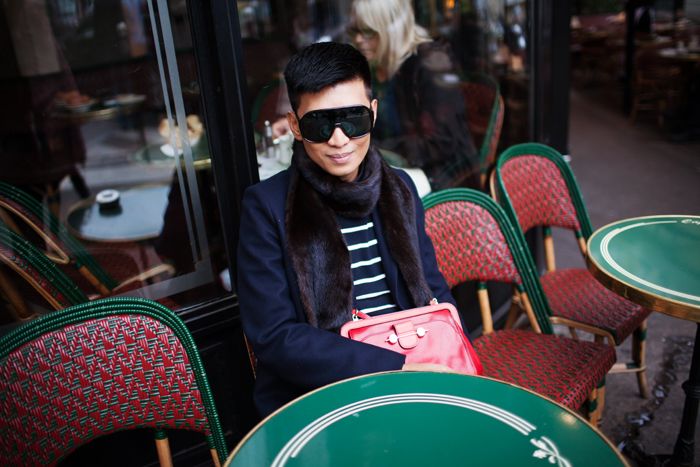 Here we have Bryan smirking at Café de Flore the first day I arrived. My flight landed in the morning and his plan to get me on Paris time by dragging me all over the city actually worked. Thanks Bryan but not really.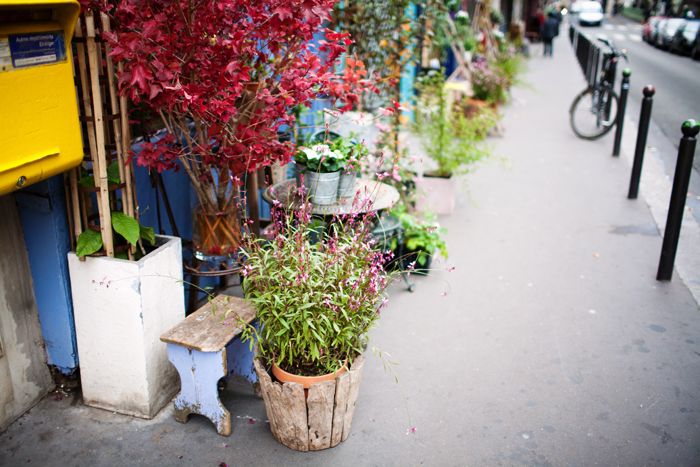 Our humble street in the 10th.
I packed this Helmut Lang sweater pretty much as a suitcase afterthought. I got it last winter but never got much use out of it for some reason, what is wrong with me? It's so fuzzy and desirable. I wore it with my ultimate fall staple, my Wang leather skirt. I just bought it in burgundy as well to relieve you of having to stare at this one so much.
With my Sonia Rykiel coat robe thing over it. Earrings here are by Melissa Joy Manning and Mister Kate, necklace is a Catbird pinky ring worn on a random chain, improvised because I couldn't get my Hortense necklace untangled.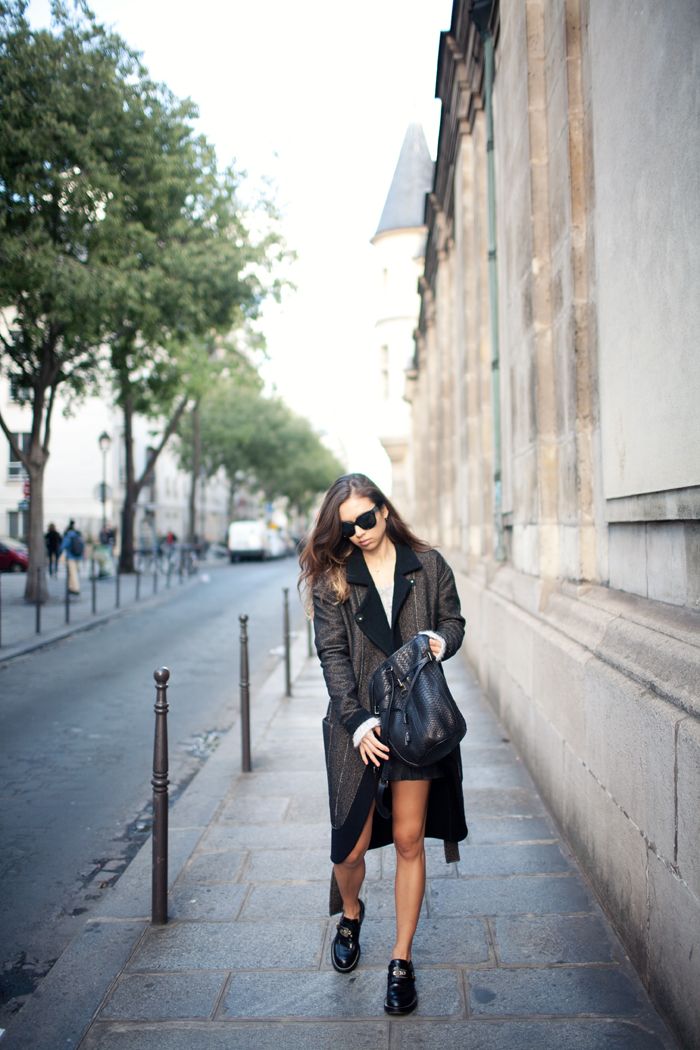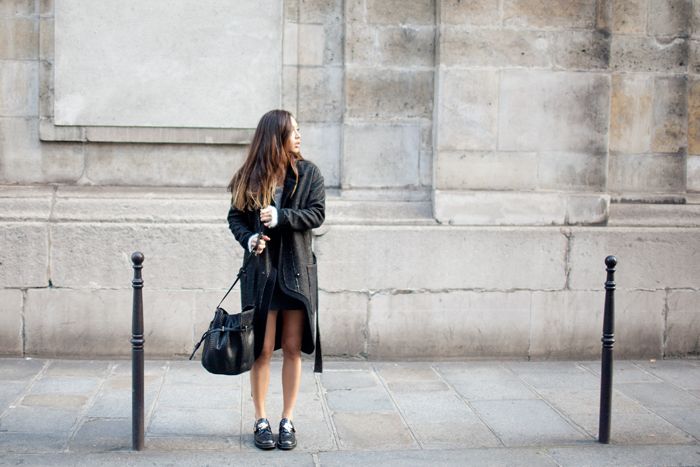 This Barbara Bui python bucket bag was my go-to during PFW, the closest thing I can find online is this leopard version on Ssense.
The Bui jacket with my Friend of Mine dress.
The invite to the Louis Vuitton show was fuzzy.
Sorry this post took so long! My travel schedule has made my life spin a bit out of control, looking forward to hanging out in California this month and catching up on posting about all the places I've been.
xx