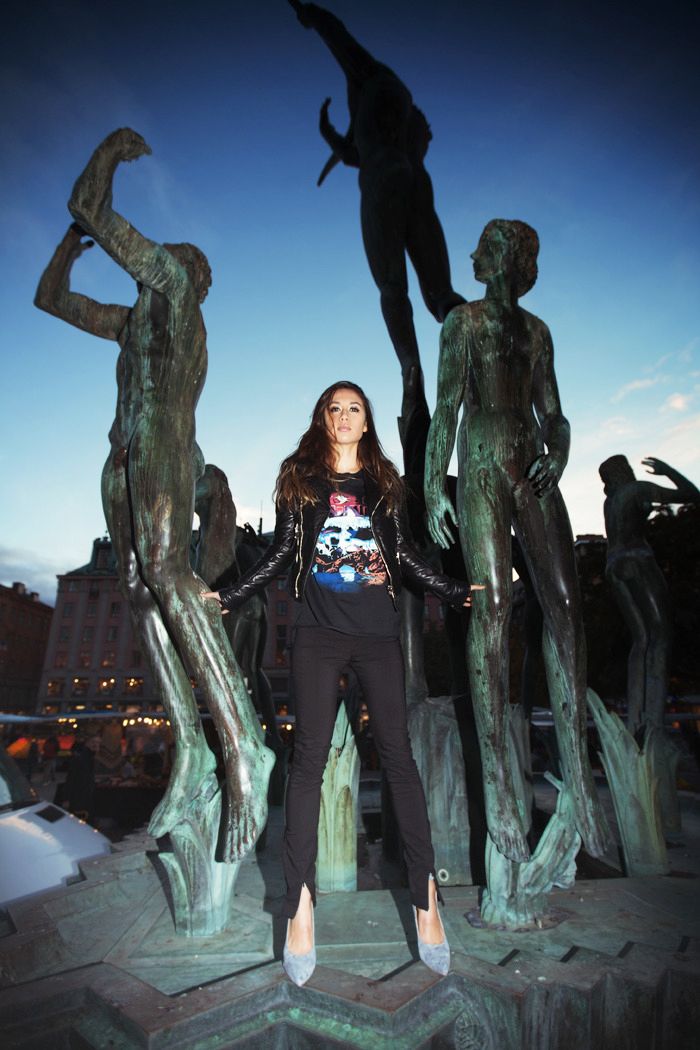 (Balenciaga jacket and tshirt, Weekday pants and heels)
There's something nightmarish and maybe also magnificent about this setting. This fountain resides in the square outside Stockholm's concert hall in Hötorget and features a mega-Orpheus being fawned over by mega-non-Orphei. And then me. Noncommittally grasping those sinewy green legs. I've taken less strange photos in my time. Swedish sculptor Carl Milles also has work in Michigan and Missouri, which seems random to me but hey what do I know.
I'm wearing the end-all be-all of leather biker jackets by Balenciaga. My Zara one I lost in New York last month on a shoot and apparently the devastation of it all could only be mitigated by going straight for the top, and fast. At least I've worn it for at least an hour most days since the hit. Which is I guess what I'm calling it now. Thank you to Weekday for being so good at outfitting my bottom half and not making it such a bad thing that I traveled to a country this far north with zero pairs of trousers. I love the super skinny cut and shoe-showcasing zippers. Those should really be more of a thing. These photos are from last week but I've since been back to LA and am now in New York again to speak at Teen Vogue Fashion University, which I'm very excited about. Hopefully I'll mostly say appropriate things. Wish me luck!