(Woodford & Co. shearling vest, All Saints quilted leather jacket, American Apparel skirt, Proenza Schouler bag, Prada suede sandals)
I love London a weird amount. Between the food, the people, the shopping and markets, the park roaming, the outerwear utilization..I'm sad every time I leave and am thinking I need to think up more excuses to make the trek. This outfit was from the last day there, it was really cold for my California blood but I was cozy in layers. The vest is as beautiful as it is slightly scary to wear in all of it's white suede glory, the rest is just black staples.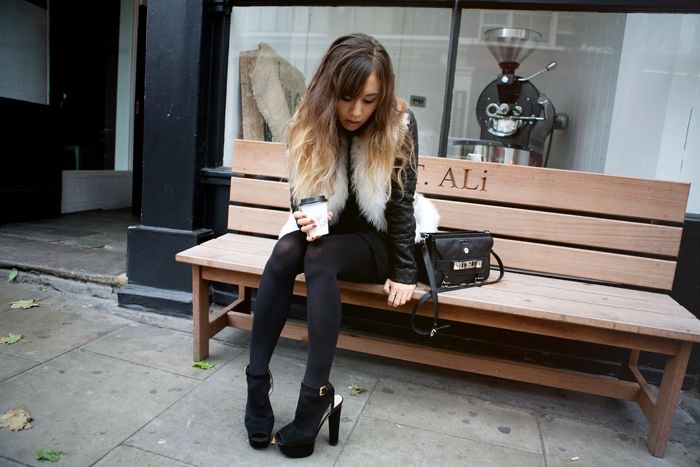 Spent the last few hours of daylight before heading to Biarritz at 6 the next morning getting coffee at my new favorite, Clerkenwell's St. Ali (may have loitered there every other day), and then shopping along Brick Lane. Experienced a minor miracle when I found a jacket that I'd regrettably decided not to buy back in June still sitting there waiting for me. The shop owner remembered me and my vacillating and spent a good ten minutes reminiscing loudly about our previous interaction. Slightly embarrassing, mostly entertaining.
Now I'm here in Paris where the weather is in the eighties and I ran around in denim shorts all day, again. We're switching off from city to city staying in hotels and renting apartments (Airbnb! but I must say it's all downhill from our week at the Mandarin Oriental.. um I have to tell you about the unreal spa treatment I got there) and our place here in Montmartre is perfect. I was just served a home cooked meal by the boyfriend, no dress code or questionable menu options. Perfect.