09/30/2011
8:04 pm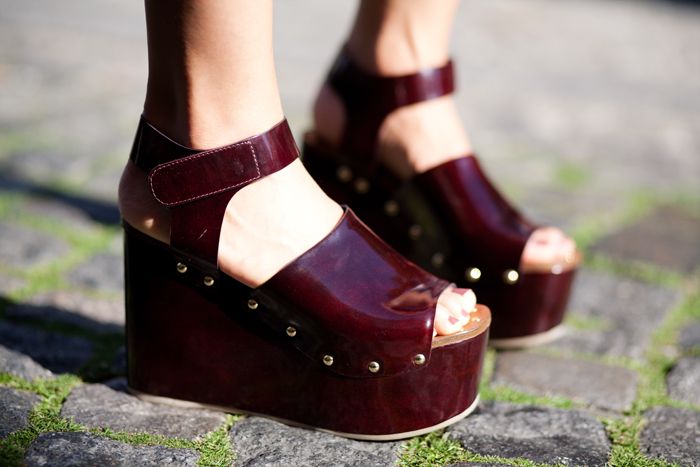 New in: Céline burgundy platform sandals.
CONTINUE READING
09/28/2011
8:59 pm
(Woodford & Co. shearling vest, All Saints quilted leather jacket, American Apparel skirt, Proenza Schouler bag, Prada suede sandals)
I love London a weird amount. Between the food, the people, the shopping and markets, the park roaming, the outerwear utilization..I'm sad every time I leave and am thinking I need to think up more excuses to make the trek. This outfit was from the last day there, it was really cold for my California blood but I was cozy in layers. The vest is as beautiful as it is slightly scary to wear in all of it's white suede glory, the rest is just black staples.
09/27/2011
10:04 am
09/26/2011
11:04 pm
I bought this sweater in three colors last fall and haven't regretted the stockpiling once. CONTINUE READING
09/25/2011
11:34 pm
Arriving at the old Eurostar station for my first Topshop Unique show. Quite an exciting before moment..so many seasons in the past I wanted to attend but didn't make it to London.
Finding my seat, the most interesting front row setup I've seen yet – I was sandwiched between Scott Schuman and Susie Bubble and our truncated bench was right next to the beginning of the runway ie. staring right down the end of all those zoom lenses. We nervously laughed about being in the background of the Style.com images, and, well, now we are. See us intermittently staring dreamily and shooting fiercely. Great day to wear yellow. CONTINUE READING