05/31/2011
6:45 am
I will never part with this shirt..details tomorrow.
05/28/2011
9:55 am
(BCBGeneration tank, Isabel Marant belt, Forever 21 shorts, Topshop boots, Alexander Wang Jena clutch)
Warm sunset in Silver Lake, so dreamy. Basic silk tank with the uniform. Ponytail courtesy of having used this awful new Garnier conditioner that turned my hair into what felt like a superglued mass affixed to my head. This ended up being depressing when my fingers kept getting stuck or my hair tosses abbreviated so I braided it upwards and pulled it back in defeat. I wish I was better at hair things so I could wear it some other way than down..but I always forget it's even an option to do something more than nothing to it. Maybe I'll try to remember to screw with it more. This week I'm cementing some summer plans – right now it's looking like Tokyo to Paris to London and then the Outside Lands festival in San Francisco in August. I haven't left California since the Tokyo earthquake cause I just wanted to stay put for a while but I'm getting excited to work on a summer suitcase and see some new sights. Feels like it's time again.
05/25/2011
9:21 am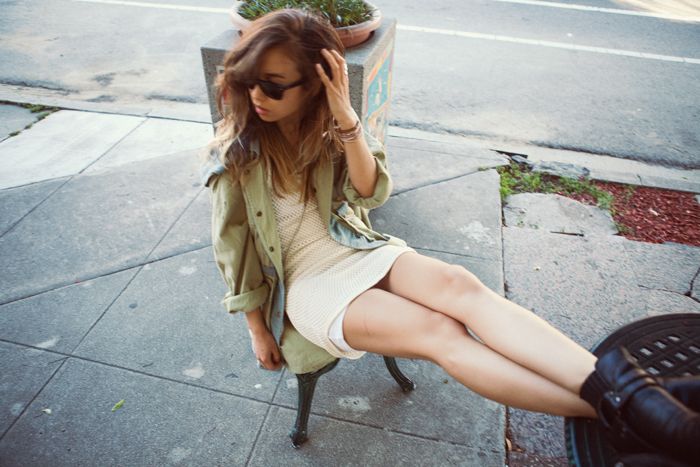 (Bec and Bridge parka, Isabel Marant dress over Herff Christiansen dress, Barbara Bui boots, Chan Luu bracelet)
I love the idea of throwing on large utilitarian-looking things that feel as if they've been beaten over rocks for a few centuries over small things that look to have washed ashore onto said rocks after failing at their original purpose of capturing marine life. Yes. It's all about finding the right balance. This Bec and Bridge piece is oversized and longer in the back and reminds me of a shirt a science teacher might wear. But it's a parka and therefore awesome.
I wore it with an Isabel Marant open knit cotton tank dress (?) I got at Creatures of Comfort and Barbara Bui motorcycle boots that I had dyed black from a much less wearable pewter. Well worth the two week wait and the involved process of removing the dye from the rivets one by one with cosmetic Q-tips dipped in nail polish remover. Actually that part was kind of fun. Right now they're looking a little obscenely jet black but they should slowly dull beautifully. End outfit post.
05/23/2011
12:45 am
05/15/2011
8:45 pm
(Whyred sunglasses, Isabel Marant Muddy sweater, vintage leather dress, Topshop boots, Fendi bag)
I peeked through the blinds at 6:30 this morning and was groggily pleased to see it was raining but all is back to normal now. Wearing Isabel Marant's crew neck sweater I ended up being unable to resist over a vintage leather dress from a store in Venice Beach that has since closed. Going to catch up on life today and hopefully reward myself by curling up with The Andy Warhol Diaries later on. One of the most quotable books I've read in a while.