Sorta took me longer than I expected to put this together heh. Oops. Here goes..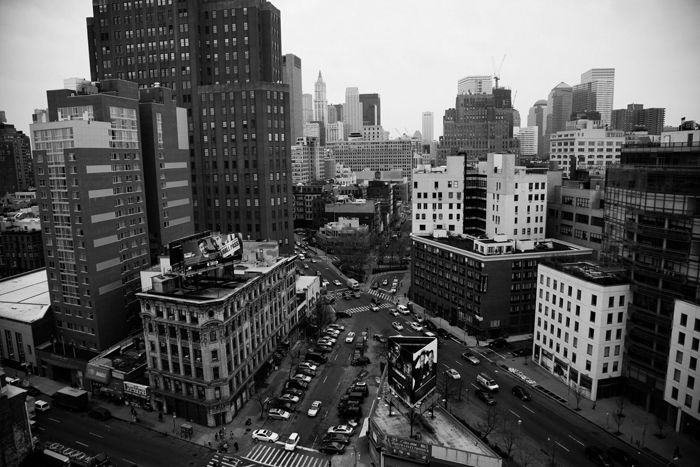 Home base = Soho
Tools of the trade. Well including the camera used to take this photo (both Canon 5Ds…since I get a lot of emails about that). And a crap ton of other gadgets, actually. Blogging involves lugging a lot of stuff all over the place.
What I wore to Diesel Black Gold..they let me pick something out for the show and I went with this skintight leather thing. My attempt to make it more daytime appropriate was layering a sheer top from LF underneath it. Cher Horowitz moment.
How I didn't freeze to death = hairy jacket courtesy of Egoist (Japanese brand).
I can only focus when sprawling or perching. Wearing Topshop everything.
The Soho Grand ie. best home away from home. No really though, towards the end of our two weeks there it really started to feel that way. Strange how easy it is to make new routines.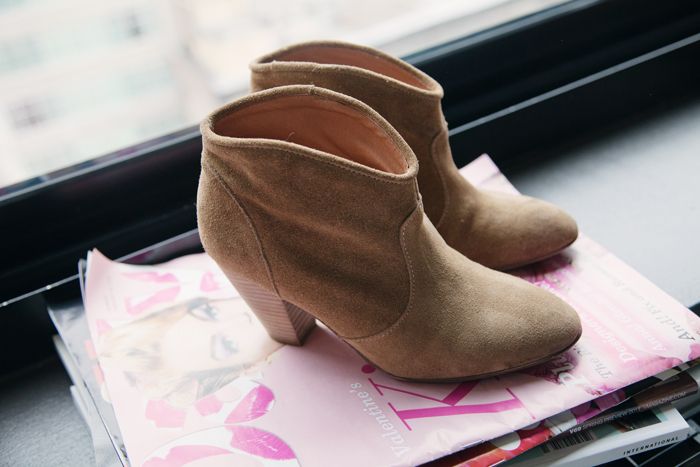 Topshop 'Antique' boots..these work with everything. It's weird.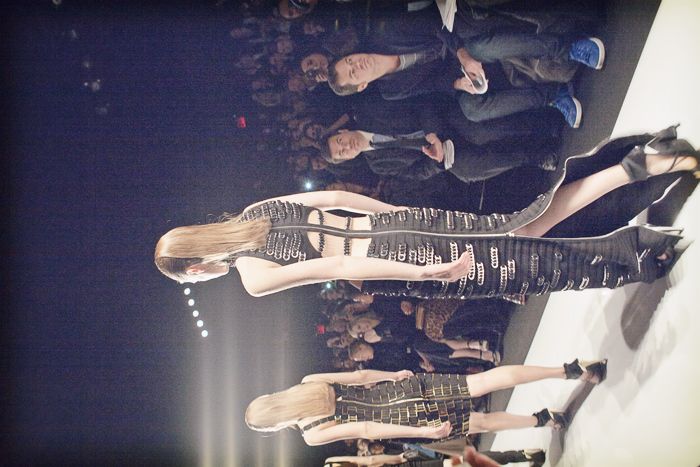 Dramatic exit at Herve Leger.
On one of the warmer days toward the end of our stay…I almost wore this outside before my sanity quickly returned. Wearing vintage knit, Lonely Hearts skirt, Topshop boots.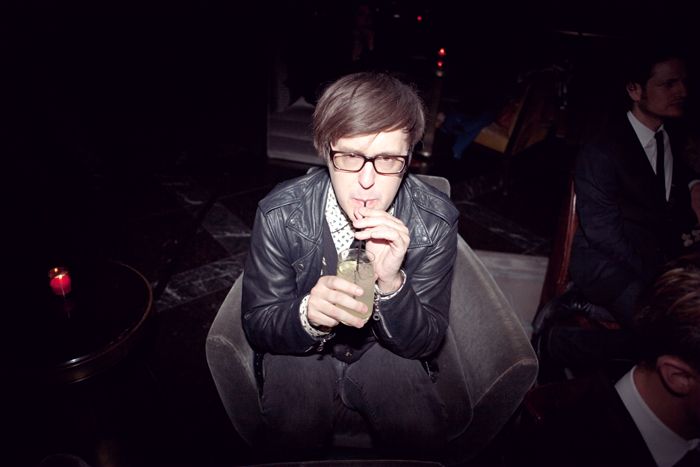 Andrew at the Bloglovin Awards..one of my favorite people. He works for Teen Vogue but apparently also gets approached by girls asking if he's Andrew from Fashiontoast. I would feel bad about that if it wasn't so funny.
After the Thakoon show, screwing around at the Plaza Hotel, wearing Claude Maus dress, Ruby lace top, and Topshop boots.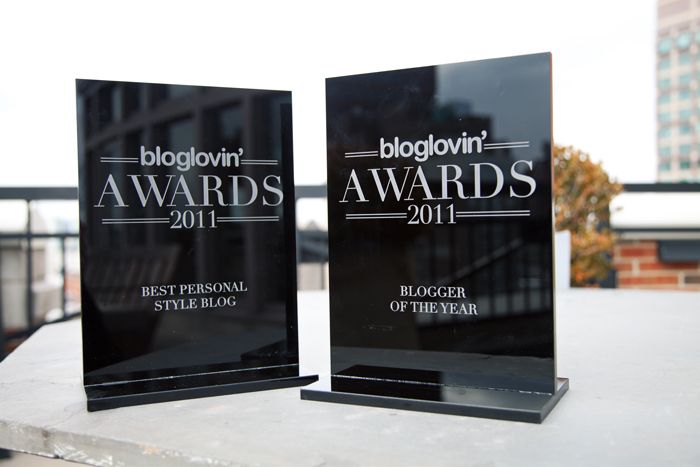 Still can't believe that this happened. Most of the time I feel like a terrible blogger. You guys are awesome.
At Marc by Marc Jacobs, wearing Topshop jacket, the tank I designed for RVCA, Theyskens Theory skirt, and Marco Tagliaferri bag.
I take pictures of bikes everywhere I go. It's not a very evolved thing to do.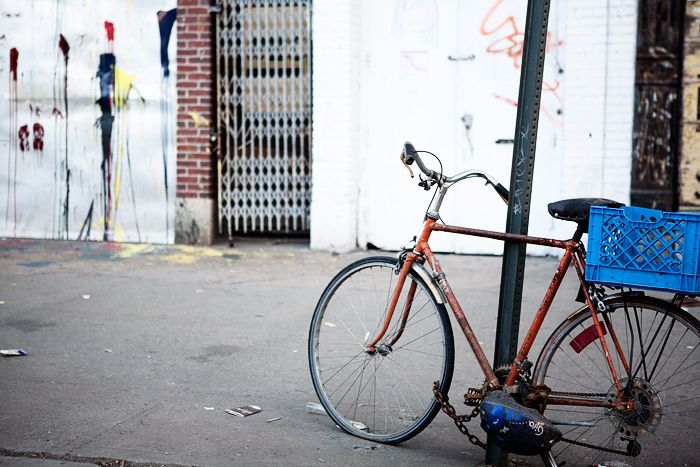 But I really can't help myself.
At the Retna event, here with Pat Tenore..wore One Teaspoon dress, American Apparel tshirt, Topshop boots, and Karen Walker scarf borrowed from Bryan.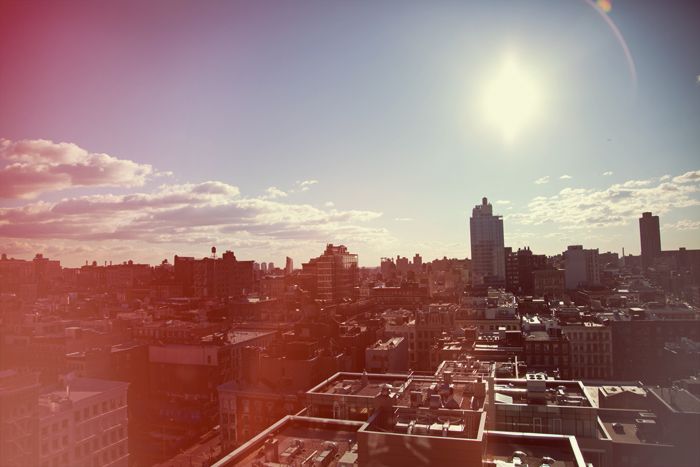 Morning cityscape.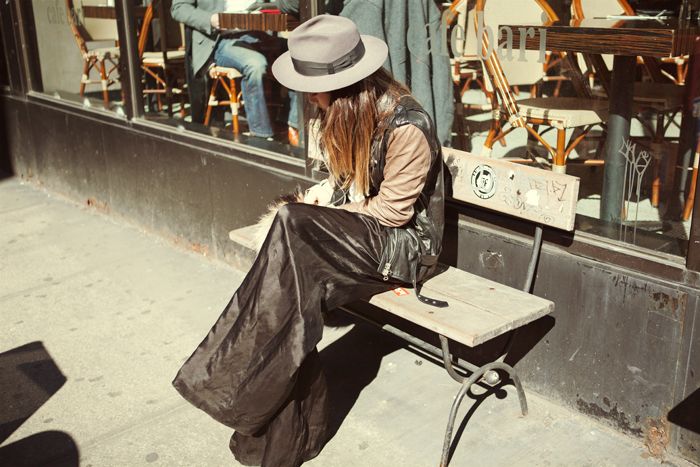 Before or after brunch one day, wearing these sweet trousers from Theyskens for Theory. Theyskens Theory. That gets stuck in my head sometimes. These are wide legged in the most exaggerated way imaginable. Really have to get some more demonstrative photos. Sorry. See, awful blogger.
YES. It's probably a good thing I only made it to this general vicinity once. Everything in the collection is perfect, and infinitely wearable.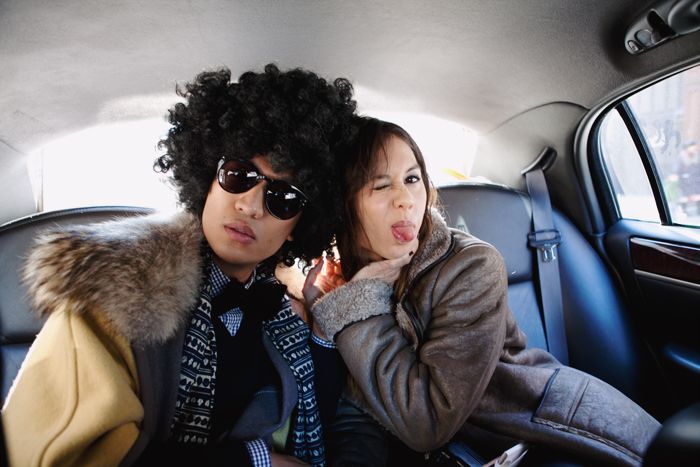 With Bryan. A lot of things happened in the car that we shared. Like lint rolling each other and losing things that we found five seconds later and accessory analysis. Seriously though, he's one of my best friends and favorite people to laugh with (same thing).
Closer shots of my silver sweater from H&M.
Walking to Lincoln Center with Stephanie Lacava. Her personality sort of reminds me of Luna Lovegood's. So awesome.
Acting a fool at the Soho Grand, wearing Karen Walker metallic dilophosaurus dress. At least that's what I call it. They might call it something else.
Cloudy blue nail polish at Pamela Love. I wonder what they used..
At Charlotte Ronson, wearing an old denim shirt, shorts (I swear), and Mulberry leopard print bag.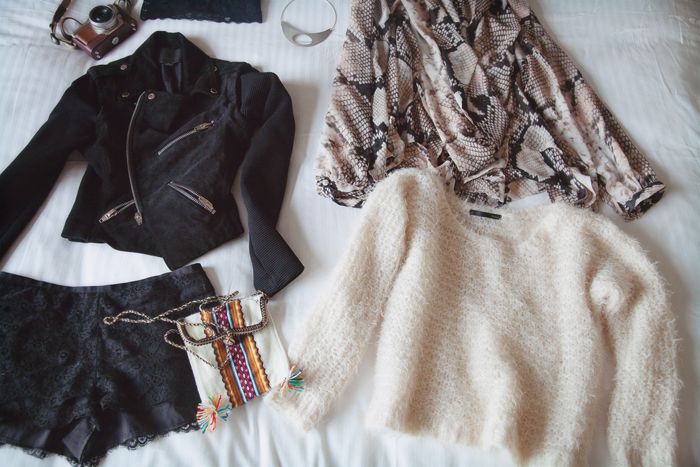 Clothing much more appropriate for spring – Alexander Wang suede moto jacket, Topshop top, knit I bought in Shibuya in December, LF bag, and Forever 21 shorts.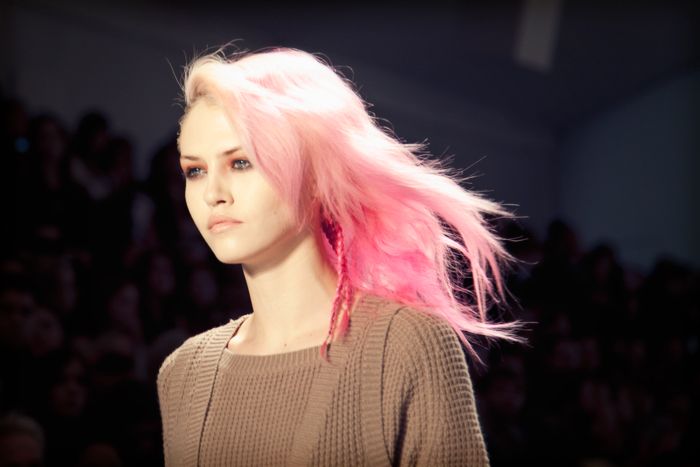 Charlote Free at Charlotte Ronson.
Sunset from Soho.
Wearing LF loose knit and Topshop shorts, looking quite serious. Reading The Daily. I love The Daily.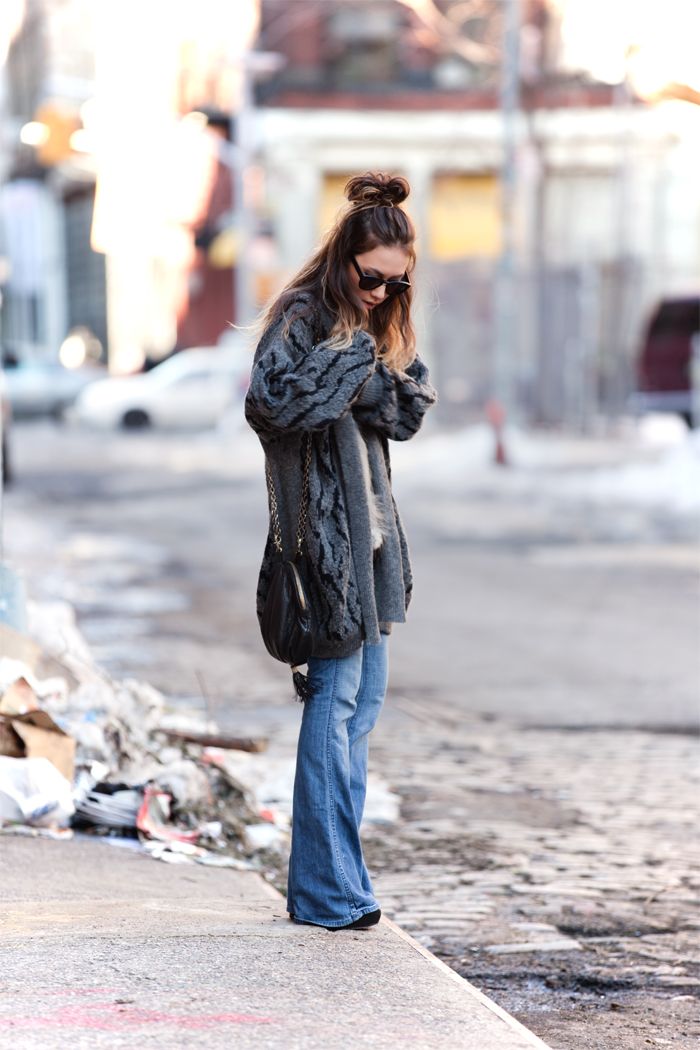 Wearing vintage Escada knit, Elizabeth and James jeans, Whyred sunglasses, and gifted Made Her Think chain strap bag.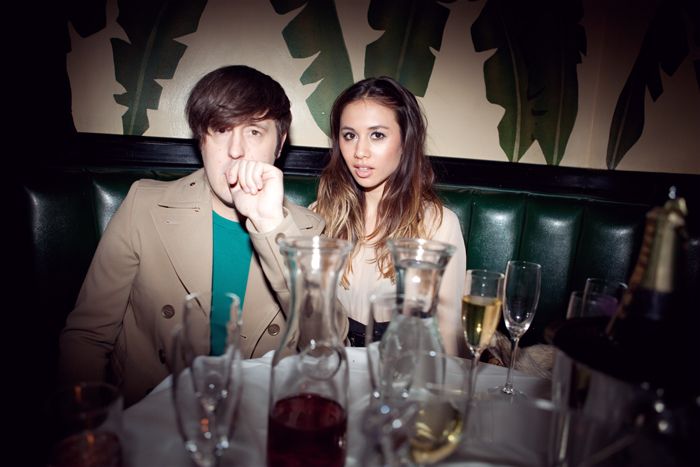 A night at Indochine. This photo makes us look guiltier than we should.
Stephanie took us to raw restaurant Quintessence, which was so so good. Afterwards we stopped by Live Live & Organic to pick up some Sacred Chocolate, also raw. I could possibly become addicted if it was more widely available.
The opulence of the Plaza Hotel never gets old.
Wearing Topshop top, Theyskens x Theory leather pants, Topshop boots.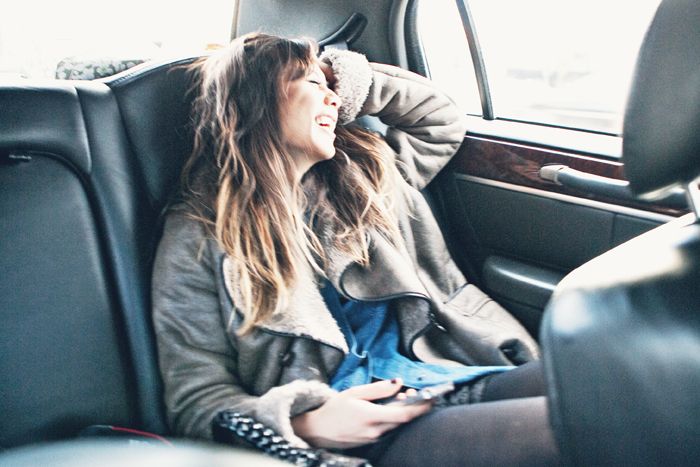 A lot of this.
At an event for Macy's new BarIII line.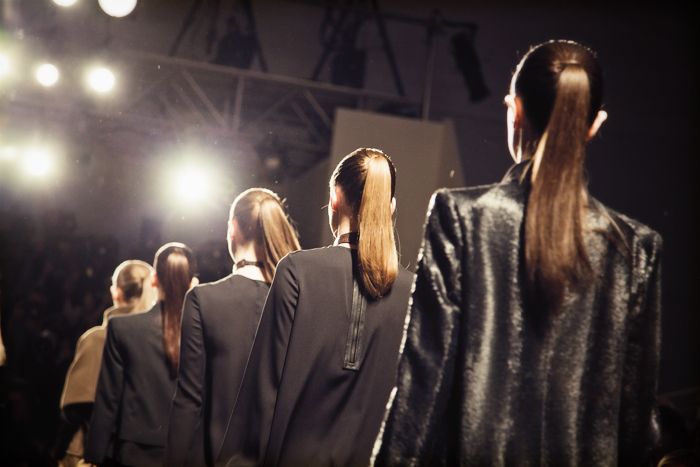 Only the shiniest and swingiest of ponytails at Max Azria. I'm pretty sure they were instructed to bounce them back and forth. I love little details like that.
Vintage coat and my much messier ponytail..
Night out at Indochine and Le Bain.
With Bryan in his marshmallow Karen Walker vest at the Herve Leger show.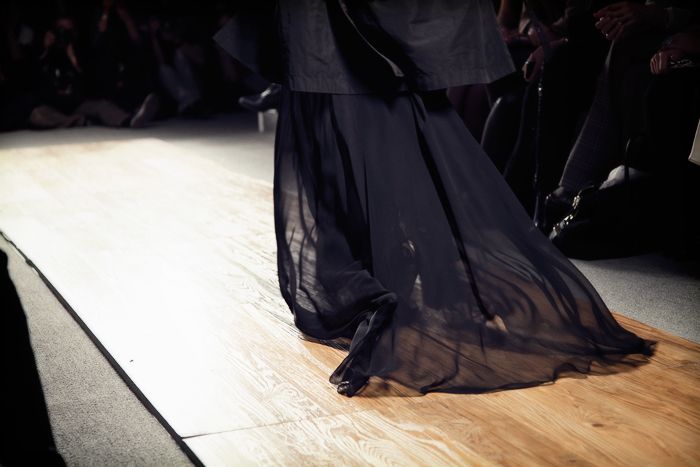 Beautiful sweeping sheer dress, also at Max Azria.
At the high school dance themed Rachel Antonoff presentation at the Laguardia High School gym. Executed masterfully, from nerds stationed on the bleachers, one with a cat in her lap, to the sweetly awkward prom king and queen. The Like played, people ate Twinkies, and I caught up with the lovely Roberts Brothers. Really fun.
I had no idea I had a duckface face. Hmm. Kristin whisked us away to the Patricia Field party, which was like stepping into a fashion-aware orgy but with movie set-worthy costumes on every other person. We ran into Andrew on the street nearby so dragged him in too.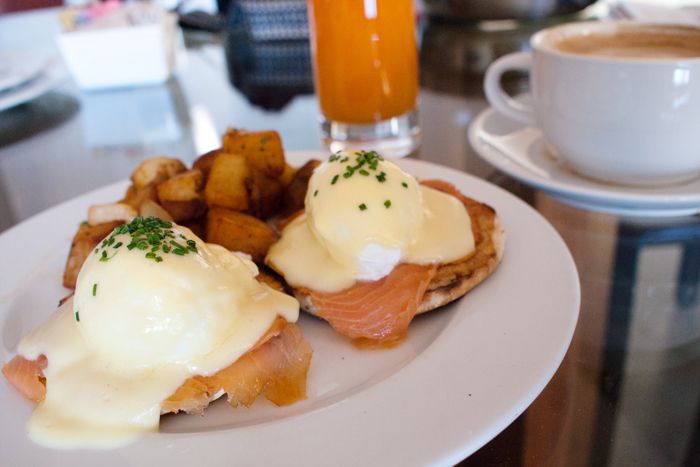 Room service… Colin and I dream about the Soho Grand eggs Benedict when we're in California. That's kind of sad I guess.
Central Park in black and white.
This hooded vest at Rag and Bone was so good. The varsity jacket lives on.
Nervous moment. He was so nice, so easy to talk to.
From the penthouse roof deck on our last night, wearing Freddy Krueger Topshop knit and my tried and true Levi's.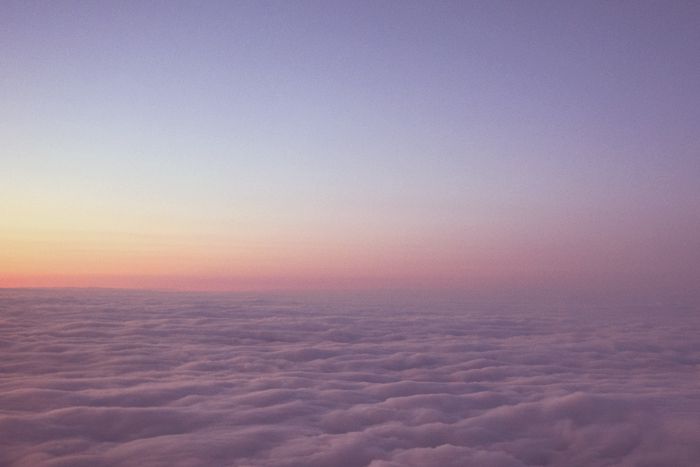 Heading home exhausted and ready for some normalcy. The abnormally windy day made for a scary ascent but once we were above the clouds it was beautiful.
Hope you enjoyed..
xo