02/29/2008
11:49 pm
Button-down shirt, secondhand. Leggings, Forever21. Necklace worn as headband, Banana Republic. Clutch and scarf, vintage. Shoes, Bebe.
02/29/2008
2:38 am
Since an obsession with them in 1999/2000 and subsequent overdose and exclusion of them from my wardrobe, I've wondered if the denim jacket would ever feel fresh again. I think I was inching in their direction with this ensemble, and you know, even the revered Ashley Olsen stepped out in a Western denim shirt this week. Scary stuff.
Oh, and to the rather astute reader who asked if I had gotten a new camera, why yes I have! My old Sony DSC-T10 died an abrupt death when dropped (a mere couple feet! but on cement..) during an unexpectedly crazy night out, and I had been using my boyfriend's Casio that I gave him for his birthday last year. This of course wracked me with guilt over being a present-user, as much as he insisted he didn't care. Anyway, I hopped into Target after yoga (to everyone who asks if I work out…yoga with weights) on Monday and purchased a brand new shiny shiny in the form of a Sony DSC-W55(memory card incompatibility with any other camera makes me brand loyal..clever company) and am quite pleased with it. Very little lag time, and pretty crisp quality, no? This Carl Zeiss person is good. I'm not that bitter about my old one…it was over a year old (gasp!) and I got it in Tokyo so was left quite in the dark in regards to menu options..my kanji isn't that good even after years of bitterly endured (Saturday-stealing!) Japanese schooling as a child. So it's quite refreshing to be able to toy with almost overly numerous options…beach setting to make the water appear more blue? Really? I will, of course, be trying it.
Jacket, vintage Levi's. Skirt, vintage. Shirt (it's actually more charcoal gray than black..this matters), Urban Outfitters. Gladiator heels, Nine West. Ankle socks, scrounged up at Marshall's. Rings, Forever21. Bag, Balenciaga.
Relevant pictures:
02/28/2008
4:54 pm
Okay so I know I'm behind on all kinds of posts, from every fashion week to the Oscars to a thousand other things tumbling about in my head, but I'm going to go ahead and say that a new crop of model street style pics is one of my favorite aspects about the twice-yearly fashion mayhem. The collections can take a little while to settle in and start feeling right, but the models are always dressed somewhere between impeccable and kooky with the end result being a fabulously playful feast for the eyes. My personal favorites are always Lily, Magdalena, Anja, and Natasha..and isn't Behati just ridiculously adorable?
Sources: shopgirl, elle, jukich, thecobrasnake, style.
02/27/2008
7:31 am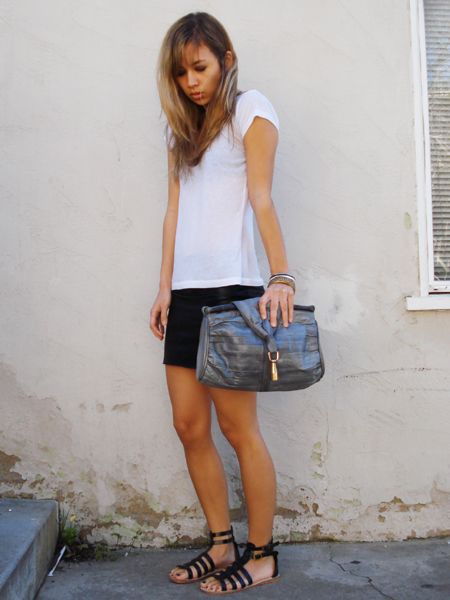 A few of you asked about the more glamorous sister of the cadet blue/grayish vintage eelskin clutch I debuted this weekend, well it has arrived in my store. This thing is beyond amazing in real life, sumptuously soft to the point of insanity, in mint condition, and quite expensive-looking also I might say (even lined in suede!).
02/27/2008
6:50 am
Fashion stylist currently stationed in NYC via Germany and Paris, former assistant of Carine, and undoubted Sartorialist all-star, Julia von Boehm encapsulates all that is chic, sleek, and wildly sexy. She first caught my attention in a military green (men's?) coat with studded Louboutins (pic to the left), complete with knowing smirk, and since then has never disappointed my relatively discerning eye. She works with texture, lengths, and shapes easily, and frequently will offset a bulky statement piece (see mega-tulip skirt, aforementioned boyfriendy coat, gray scarf for a giant, and cozy vest/pompom sweater combo) with skyhigh hemlines and bank-crippling heels.
Her perfectly off kilter home:
One Day in Tokyo, styled by Julia, photographed by David Mushegain for Vogue Nippon Feb/08
Sources: bird-production.com, style.com, cafe-mode.hautefort.com, gastrochic.com, elle.com, thesartorialist.com, scans by evisu donna, 1karina1, berlinrocks, kanna of thefashionspot